One of the most hyped crypto projects of late summer 2023 is Friend.Tech. It is a decentralized social network platform, where participants can monetize their profiles by selling "shares" to subscribers in exchange for the opportunity to communicate. Let's dive into the details and find out why many market participants consider Friend.Tech a scam.

What is Friend.Tech
Friend.Tech, operating on the Web3 framework, was launched on August 10, 2023. It is utilised on the second-layer Base blockchain, built on top of Ethereum.
First-layer blockchains (such as Ethereum or Bitcoin) are ready-to-work networks that other projects can use to build something on top of. Second-layer blockchains are a bridge on top of first-layer blockchains. Developers use them to reduce fees and decrease the first-level blockchains' overwhelming burden. Learn more in our article.
The Friend.Tech's developers call it "a marketplace for your friends". Technically, Friend.Tech functions as a decentralised social network.
Users can monetize on their profiles by inviting others to buy their "shares". The purchase opens access to a group chat where subscribers can ask issuers questions and get responses in communal chats.
The value of these "shares" depends on the issuer's actions. The higher the issuer's activity is, the greater the cost of the "shares".
Friend.Tech app is available for downloads only for iOS devices directly from the official website. Prior to registration, you have to get an invite—an access code from an already registered user.
After a Friend.Tech account is created, the system prompts users to link their Twitter accounts. To activate the platform, you need to deposit 0.01 ETH (~$16).

Friend.Tech stata
Within 10 days after the launch, the Web3 platform surpassed the largest decentralised crypto exchange, Uniswap, and even the Bitcoin network in terms of fees. On August 21, 2023, Friend.Tech recorded its peak fee volume at $1.68 million in just 24 hours.
On August 20, 2023, Friend.Tech was already ranked third in the top of crypto projects by largest fee volumes. Ethereum and Lido remained the only contenders ahead.
At the time of writing (August 28, 2023), Friend.Tech has dropped to the 11th place in the ranking. The number of active users has also declined. On August 21, the platform's peak of buyer activity (green curve) stood at 3618 transactions. Sellers (red curve) were most active on August 20 with 534 sales. Now, the total volume of transactions has slipped to 600.
The number of unique users of the project—people who have conducted an operation within the platform at least once—continues to grow slowly, approaching 180,000 (see on chart below). This surge happened because the metric does not show market participants who exit Friend.Tech. Instead, it captures all new users still joining the platform, although not at the same pace as it has been lately.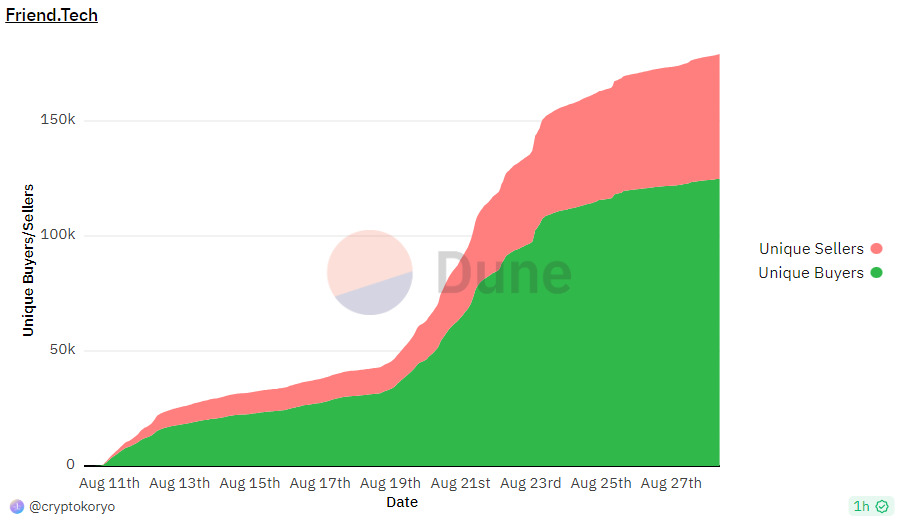 Number of unique Friend.Tech users. The red area represents sellers, and the green one shows buyers.
However, many members of the crypto community believe that the project has already reached the peak of its hype. Now, they predict the platform's inevitable death. Below are five red flags that indicate Friend.Tech has no future.

5 red flags of Friend.Tech
🚩 The Friend.Tech app is not available on the official iOS marketplace
The mobile application can only be accessed by downloading from the project website via a browser, which means that there are no safety guarantees.

🚩 Within just 11 days of its launch, personal data of 101,183 Friend.Tech users leaked
Spot On Chain analysts suggested that fraudsters had gained access to information due to the platform's API protocol vulnerability.
An API protocol is a set of ways and rules programs can use to interact and exchange data.

🚩 Friend.Tech trades unregistered "shares"
In 2023, the crypto community faced pressure from the US regulators. The watchdogs see signs of unregistered securities in 68 coins (Solana, Cardano, Binance USD, etc.). Friend.Tech legalities are likely to be questioned over time. OC Advisory lawyer Orlando Cosme believes that these "shares" could potentially violate securities laws.
13 days after the launch of the Friend.Tech, the developers renamed "shares" to "keys". Probably, it was made in order to avoid the regulators' attention, who pursue unregistered securities trading.

🚩 Friend.Tech platform is not transparent
Developers do not provide users with any technical details. They do not even know exactly how Friend.Tech stores their data. All that increases data leakage risks and manipulation.

🚩 Friend.Tech has no mechanisms to protect users from fraud
Attackers can create fake celebrity accounts on the platform, sell off "shares", and then delete those profiles, effectively dropping the costs of those "shares".

Is it worth downloading Friend.Tech
Friend.Tech has many red flags, projecting high risks that something might go wrong. Before signing up, investigate the pros and cons and do your own research.
Itez is ready to help you with that: How to DYOR: Pi Network Review.
Subscribe to our Telegram channel to stay updated on the hottest crypto news!
🤔 What's your opinion about Friend.tech? Share on socials!
💌 Telegram, Twitter, Instagram, Facebook

You may also like:
Crypto: security or commodity?
Challenges with PayPal's stablecoin: 3 key concerns
This article is not an investment recommendation. The financial transactions mentioned in the article are not a guide to action. Itez is not responsible for possible risks. The user should independently conduct an analysis on the basis of which it will be possible to draw conclusions and make decisions about making any operations with cryptocurrency.