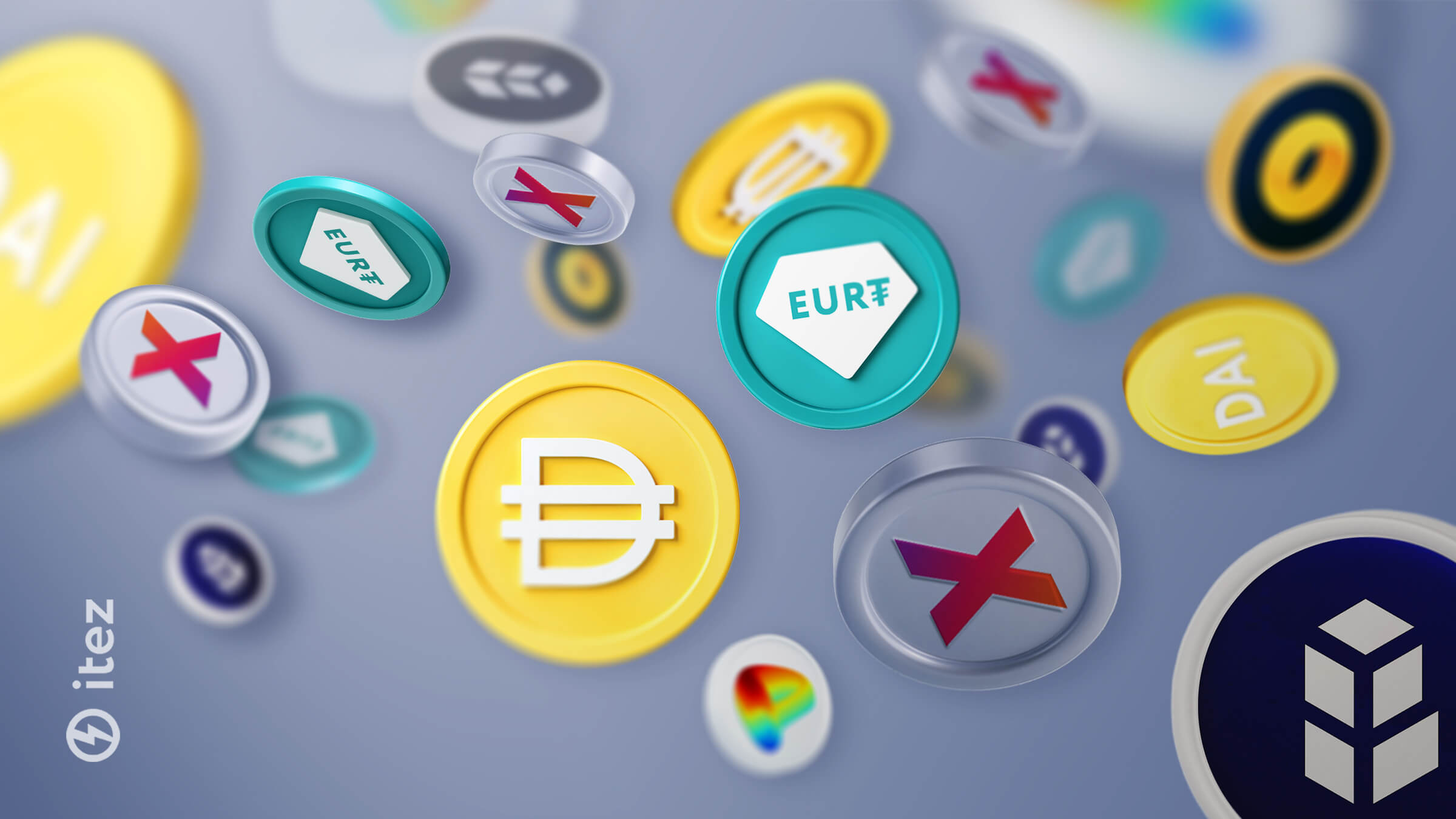 We are proud to announce that itez added new coins to the widget this fall: DAI, EURt, BNT, CRV, MC, and XCAD.
The thing is, we've updated our widget's functionality and launched a new SWAP feature. So, 2000 more coins are yet to come!
Let's briefly overview each of those newbies.

What is DAI
DAI is an Ethereum-based stablecoin. It is governed by the Maker protocol and the decentralised autonomous organisation MakerDAO. DAI's price is pegged to fiat currency and secured by a combination of other cryptocurrencies.
There are two versions of DAI: one with multiple provisions and another called SAI, which is an earlier version of the token. SAI can be backed by only one cryptocurrency and doesn't support the DAI accumulation rate, which allows users to earn interest on storing their DAI tokens.

What's the deal with EURt
EURt is a stablecoin linked to the euro and supported by Tether, the company behind USD Tether (USDT).
Each unit of the EURt stablecoin corresponds to the value of one euro. While EURt mainly lives on the Ethereum blockchain, it can also be deployed on other blockchain networks.

What is the main aim of Bancor Network Token (BNT)
Banchor Network is an ecosystem of decentralised and open-source DeFi protocols that foster on-chain trading and liquidity. Its main protocol, Carbon, is a decentralised trading platform, enabling users to perform automated trading strategies with an unprecedented level of control.
All Bancor ecosystem protocols are governed by the BancorDAO via staked BNT.

What makes Curve (CRV) attractive for whales
Curve Finance is a decentralised exchange renowned for its efficient and low-cost trading of stablecoins and their wrapped versions, resulting in minimal slippage. It makes Curve attractive for large trades.
Users can earn rewards by providing liquidity to the platform's pools and participate in governance decisions by staking their CRV tokens.

What Merit Circle (MC) is made for
Merit Circle is a decentralised autonomous organisation (DAO) with a mission to maximise the value accrual across different games within the metaverse and to involve more gamers in DeFi.
Every person who holds MC tokens has voting rights to decide on the company's future.

How is XCAD Network (XCAD) related to YouTube
XCAD Network helps both YouTube users and content creators to earn. Fans can receive tokens for watching their favourite creators on YouTube. The project aims to revolutionise content monetization by establishing a tokenized economy and marketplace.
XCAD is the native token of the XCAD Network Ecosystem, which can be staked or transferred between different chains by bridges.

Don't miss a single update of itez widget and stay up to date with the main news of the crypto world. Subscribe to itez on socials!