Today, on August 17, Bitcoin hit its lowest level since June 21, $27,700. The entire cryptocurrency market corrected after it. The main reason for such a drastic fall is yesterday's publication of the minutes of the Federal Reserve meeting on July 26. Let's analyse what actually spooked the traders.
Fed's statements
The Fed announced again its plans to reduce the US inflation rate to 2%. Although Jerome Powell, the head of the Fed, has repeatedly said this during meetings of the Federal Open Market Committee (FOMC), the text of the minutes indicates that the Fed is ready to further tighten its policy in order to achieve this goal. Notably, the interest rate in the United States is now at a 22-year high of 5.25–5.5%.
The market participants expected that the rate would stabilise at these levels, but yesterday's statements suggest the opposite if the situation does not improve.

What are interest rates?
Interest rates affect the "high cost" of money. The higher it is, the more expensive loans become for banks and the population. There are many other factors that affect inflation, but interest rates are the main tool available to the Fed.
Cheaper money due to lower interest rates prompt increased investment in risky assets like stocks and cryptocurrency. Remember the growth of the crypto market when central banks around the world stimulated the economy with low interest rates and direct cash payments because of COVID-19?
There is a tool that allows you to track traders' expectations for interest rates – take a look at the screenshot above.
Following the release of Fed's minutes, traders raised their expectations of a rate spike from 12.5% to 13.5% at the next FOMC meeting, scheduled for September 20. Many of them believe that the rate will remain at the current level. Read more about this tool and methodology here.

Crypto market reaction
The market's response to the Fed's intentions has been swift. Now Bitcoin is trading around $28,000, which is the lowest mark since June 21. A week before that the cryptocurrency reached $29,700.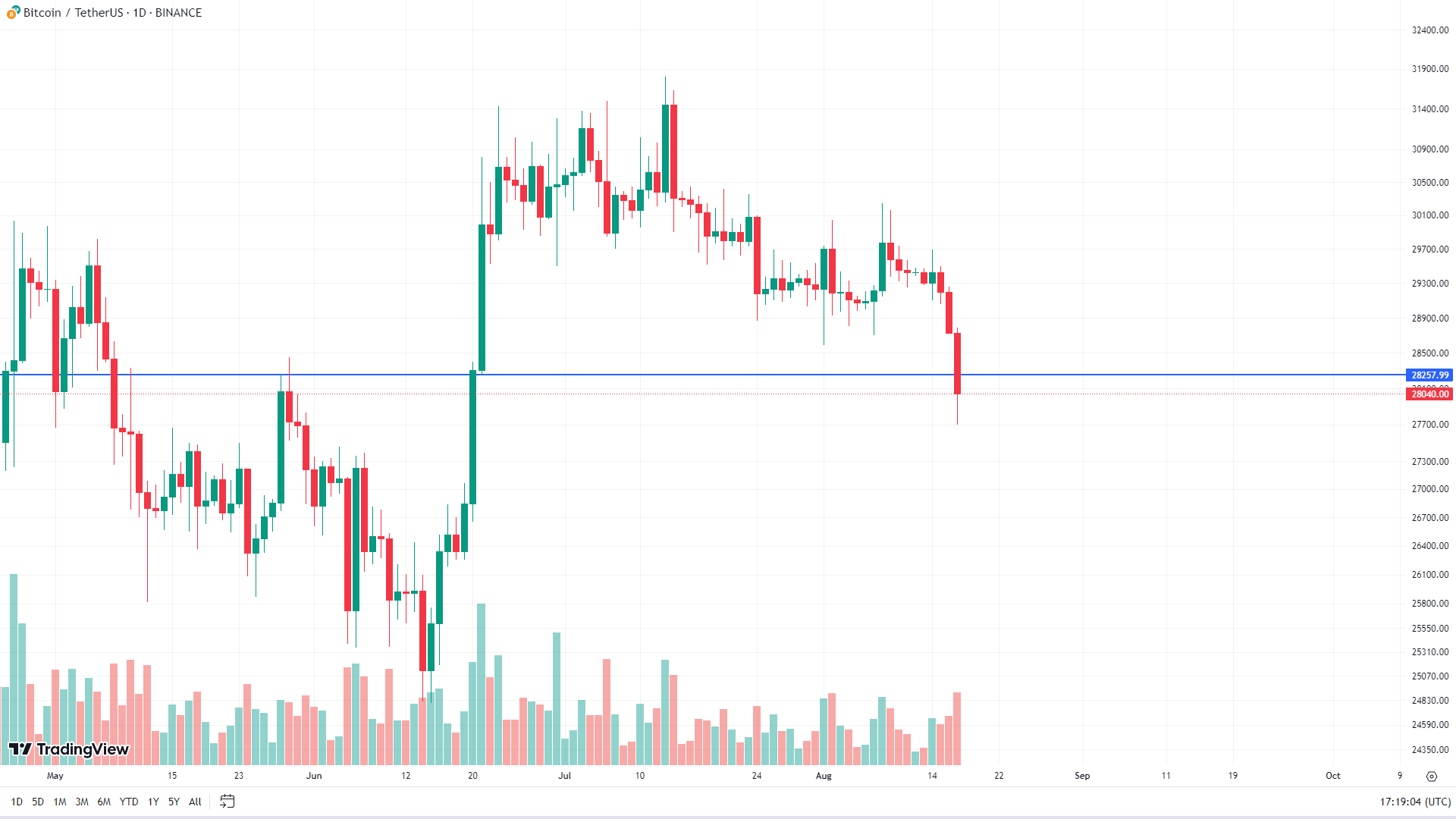 Ethereum also failed to hold the $1800 level and fell to $1726. Currently, it is trading near this price.
You might also like:
How USDT would handle the dollar's collapse