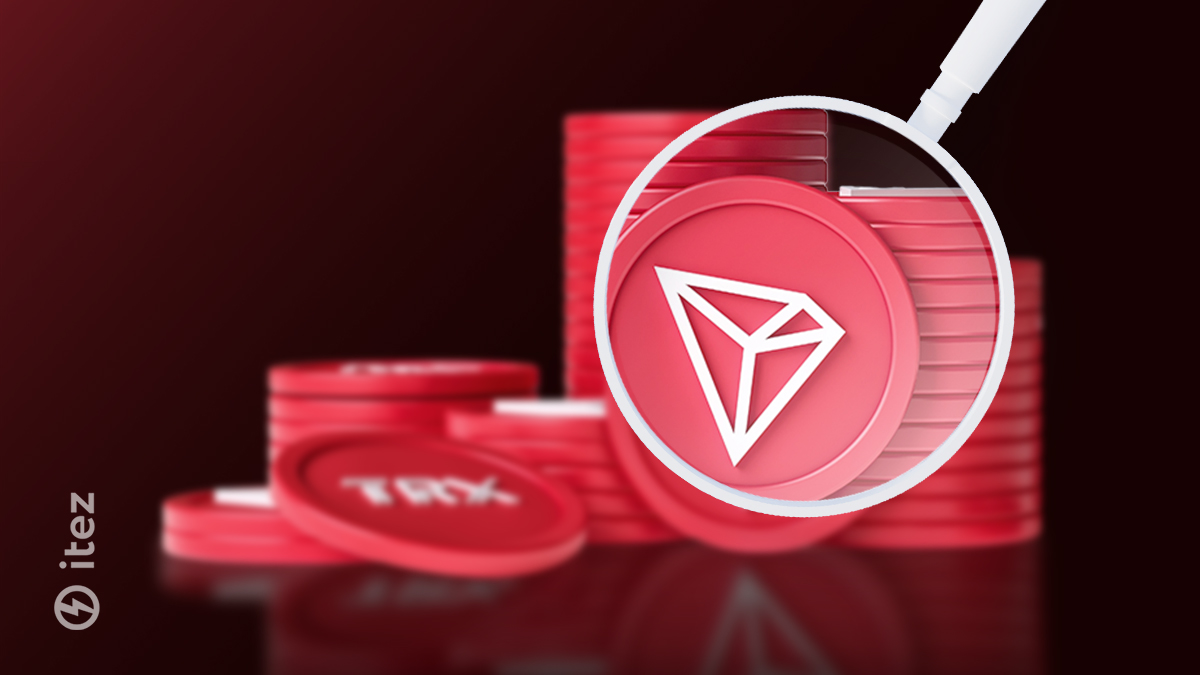 There are not so many crypto projects on the market that have survived the crypto winter after the 2017 ICO hype and the financial crisis in 2022. Tron is one of them. And now Messari researchers talk about a surge in the Tron blockchain usage. In the first quarter of 2023, the average number of daily transactions increased by 7.7% to about $7 million. The total revenue of the TRX system for the period was $90.04 million, while the average transaction fees increased by 59.2% in TRX and by 80.2% in USD.
Let's learn what this project is, who its creator is, and whether it is worth investing in TRX cryptocurrency.

What is Tron
Tron is a crypto project that creates a decentralized ecosystem and tools to interact with the third-generation Internet (Web3). Users can use it to earn money by hosting decentralized applications (dapps) and entertaining content on it. The white paper contains more details.
TRON development began in 2017 in China. The main network was launched on May 31, 2018.
The developers call Tron the «Ethereum Killer». Ethereum is the second-most capitalized cryptocurrency, with a blockchain also suitable for creating new crypto projects on top of it. To overcome Ethereum, the Tron team offered users tools that simplified dapp development and made it compatible with other blockchains' smart contracts.
Spoiler: as of the time of writing, ETH is still alive and Tron has not yet killed it.

The Tron ecosystem includes:
🌐 network explorer for checking the project blockchain's data;
👛 TronLink wallet, which contains tools for crypto purchase, storage, sale, and transfer (link also provides several other crypto wallets);
⚒️️ decentralized apps tools: platform for observation and data aggregator with up-to-date Tron dapp metrics;
🔬 Tron's scalability solution, BitTorrent Chain, which is a platform for Web3 developers;
⛓️ Tron SUN Network extension, which includes a DAppChain sidechain (a blockchain's branch that can help to reduce pressure on the mainnet);
🎤 platform that helps create DeFi projects on Tron – JUST.

During the development process, the Tron team established cool partnerships, for example, with the largest producer of electronic devices Samsung, and the DAO Maker crypto platform. Developers are also helping Dominican Republic authorities create a national digital currency.
Since January 2022, Tron has been governed by the decentralized autonomous organization, Tron DAO. It is controlled by the project's token owners. Every coin in the system can serve as a single vote during the elections. Before that, the project was under the TRON Foundation control.
Tron has been surrounded by scandals since its launch. Users discovered that its whitepaper contained copied information from other projects', and the main «donors» became Filecoin and IPFS. It didn't take long for developers to assure users that the devil is in the translation. According to them, the Chinese whitepaper is completely original.

How Tron works
Tron is an open-source project that runs on the Delegated Proof-of-Stake (DPoS) consensus algorithm. It is fundamentally different from the more common Proof-of-Work (PoW) and Proof-of-Stake (PoS) in terms of how a network chooses system participants that will receive a reward for adding a block to the blockchain.
🐘 In PoW systems, the winner is the one with the highest hashrate.
💰 In PoS systems, the right to add a block to the blockchain belongs to the system participants with the largest amount of assets.
📄 In DPoS systems, network members can independently nominate themselves as candidates for adding a block. Users then choose winners using decentralized voting. The system automatically counts the votes, which means that the process goes fast.
Initially, DPoS was developed by the EOS crypto project team. They also pioneered its use.

The Tron blockchain architecture consists of three modules:
1️⃣ Core. It includes consensus modules, smart contracts, the TRON virtual machine (TVM), and account management tools.
2️⃣ Applications. That is used by developers who build their dapps on Tron.
3️⃣ Storage. The module is responsible for storing network blocks, distributing blockchain records, and ensuring their safety.

What else do you need to know about the Tron blockchain:
📎 The block generation speed is 3 seconds.
📎 Blocks are generated by 27 validators (also called super representatives), who are elected by voting every 6 hours. TRX stakers are the ones that can vote.
📎 In order to become a validator, you need to pay 9999 TRX (about $700 at the time of writing). After that, you can nominate yourself. In order to establish workflow, you need to run a Tron node, which will process network tasks. Detailed instructions are here.
📎 Validators receive 16 TRX (about $1.2 at the time of writing) for every single generated block. The network generates blocks every 3 seconds, which means we have 460,800 TRX per day (about $32,000).

Who invented the project
Tron was founded by Chinese businessman Justin Sun. Before its launch, he worked as a representative of the Californian crypto startup Ripple and created the Peiwo streaming application.
On December 17, 2021, Sun stepped down from active project management and distanced himself from the TRON Foundation.
Justin Sun is one of the most scandalous and eccentric members of the crypto community. His active position helped Tron get the spotlight. For example, in 2020, a businessman paid $4.5 million for a meeting with the heaviest cryptocurrency critic, billionaire Warren Buffett. Sun tried to change the critic's mind, but unfortunately, Buffett never started using crypto.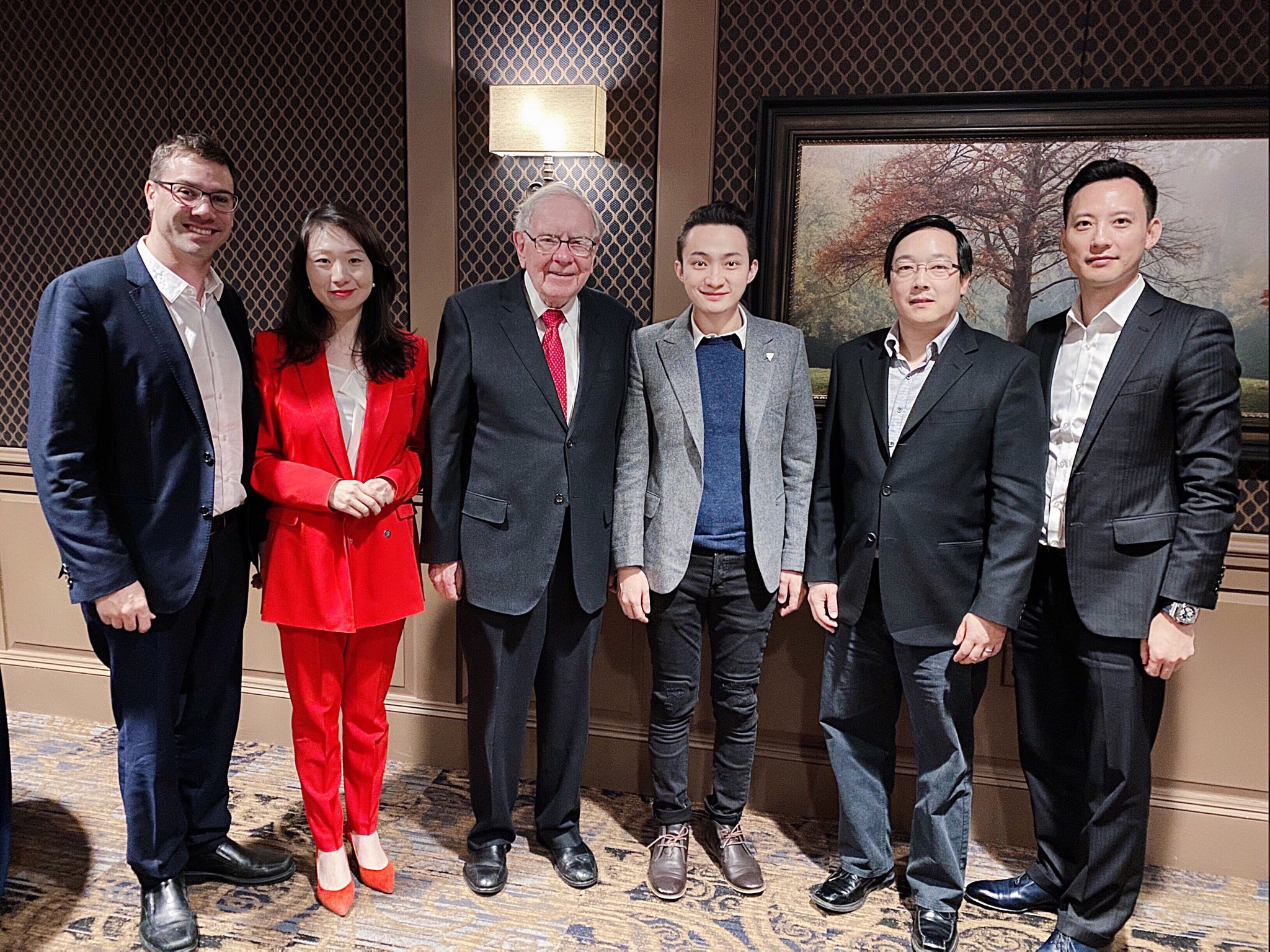 Warren Buffett (third from left) and Justin Sun (fourth from left). Source: Justin Sun's Twitter.
In October 2022, according to the mass media, Justin bought Huobi, one of the largest crypto exchanges on the market. The businessman himself refused to clarify his connection with the trading platform.
There are also dark pages in San's biography. For example, at the end of 2019, he supported the Just.Game project. Later, its developers were sued for organizing a Ponzi scheme.
Justin's relationship with US watchdogs also is not good. In March 2023, the US Securities and Exchange Commission (SEC) accused him of offering unregistered securities in the form of Tron (TRX) tokens.
The regulator has not yet made a clear definition of cryptocurrencies, but that does not prevent the SEC from suing market participants. For example, in December 2020, the regulator accused the California based startup Ripple of illegally issuing and selling securities in the form of the XRP cryptocurrency. Both sides are still trying to prove their positions. Meanwhile, Ripple continues to expand its own business.
Tron and the SEC fight may last the same long. Each investor must independently determine whether or not to invest in a project that falls under the watchdog's pressure.

TRON cryptocurrency
Tron has a native TRX token. It helps to conduct operations in the ecosystem and pay rewards: for example, dapp developers can earn coins for launching their apps in the Tron ecosystem. TRX is also needed to pay network fees, for example, for transferring cryptocurrency between wallets. It costs about $0.000005.
In 2017, during the ICO, developers released tokens on the Ethereum blockchain. Later, TRX was transferred to its own blockchain.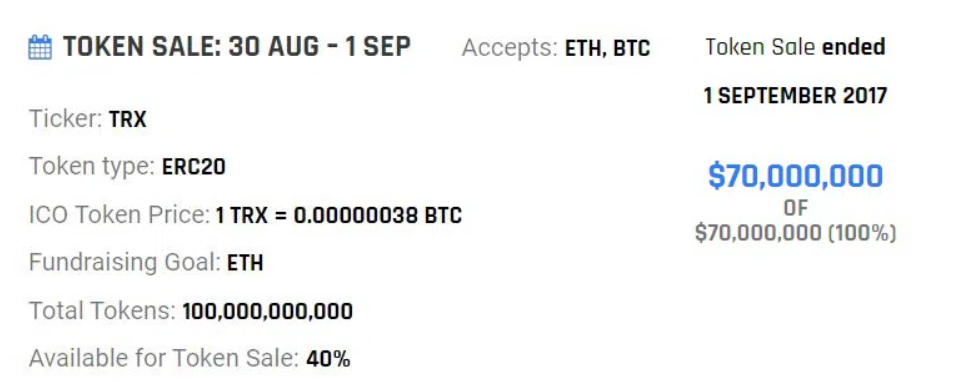 Information about the Tron ICO.
What do you need to know about the TRON cryptocurrency:
🔗 Supply: unlimited. At the time of writing, 90,562,759,948 coins had been issued.
🔗 Position in CoinMarketCap capitalization rating: 13. The coin's capitalization at the time of writing the review was over $6.3 billion.
🔗 ATH is $0.3004 (January 5, 2018). At the moment of writing, the price is $0.06985, which is almost 77% cheaper.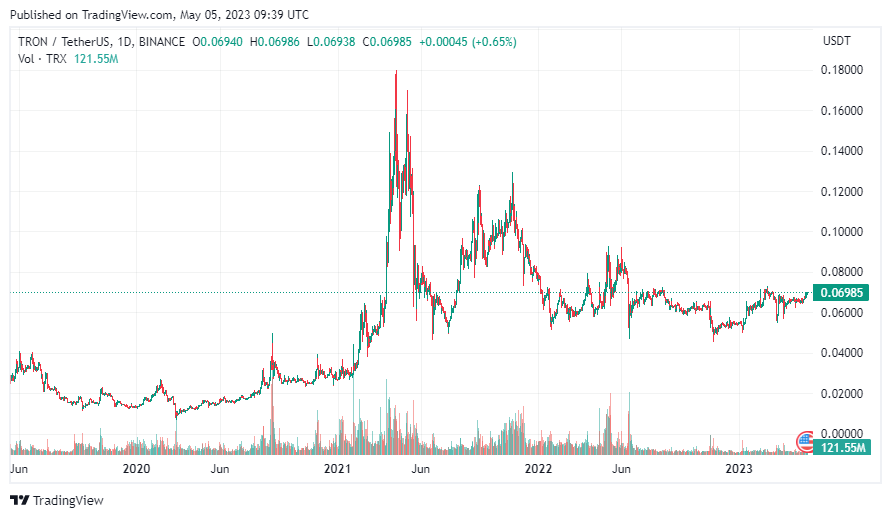 Tron cryptocurrency chart on TradingView.
TRON cryptocurrency can be staked, for example, through the Ledger cold wallet application, as well as inside Trust Wallet, Tron Wallet, and other wallets. It is also possible to stake coins on crypto exchanges, for example, on Uphold.
Staking is the intentional holding of assets that helps keep networks running in exchange for a reward.
The user can face different stake conditions. As a rule, the very first step is a cryptocurrency deposit into the wallet staking section. The system will block coins for a predetermined period in order to start accruing interest.
If you stake $1,000 worth of Tron for one year, the annual return, according to stakingrewards, will be 3.79%.

Tron staking yield.
Tron has its own token standard, TRC-20. Developers used it to issue a number of popular cryptocurrencies, including the stablecoins Tether (USDT) and USD Coin (USDC). TRC-20 has become an alternative to another popular Ethereum token standard, ERC-20.
Transfers on the Tron network are faster and cheaper than on Ethereum. But ERC-20 tokens are more common, which means they are easier to transfer and exchange. Learn more about the differences in standards with our article.
Tron is not a newbie on the market. The project survived hard times and not only remained in demand but also retained its high position in the capitalization rating. Despite the rumors Tron's founder Justin Sun is surrounded by, TRX demand is growing: Messari researchers Talk about a surge in blockchain usage in the first quarter of 2023. One of the reasons is the popularity of the TRC-20 standard.
You can buy Tron at best price with the European licensed exchange service itez. Before purchasing, learn more about wallet creation and TRX storage.
💌 Telegram, Instagram, Twitter, Facebook
​​This article is not an investment recommendation. The financial transactions mentioned in the article are not a guide to action. Itez is not responsible for possible risks. The user should independently conduct an analysis on the basis of which it will be possible to draw conclusions and make decisions about making any operations with cryptocurrency.