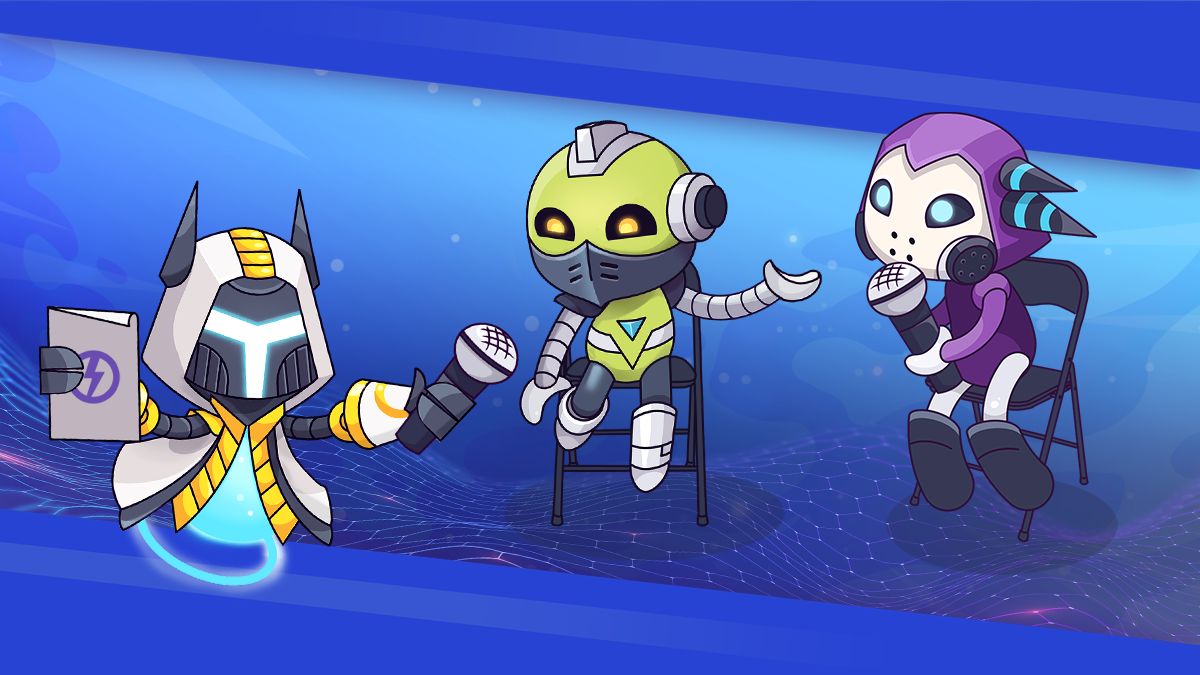 Just recently we've posted a big overview on the Cryptobots NFT game and got bombarded with questions! We decided that no one could answer these questions better than the creators of Cryptobots themselves.
A small recall: Cryptobots is an NFT play–to-earn game that originally launched in 2017, returning with a new Cryptobots Game in 2022. The gameplay of Cryptobots is multilevel and addictive, and the in-game economy is stable, with all mechanics calibrated to achieve maximum sustainability. Cryptobots developers have been in the P2E field for more than five years, and they understand what is needed now to create a high-quality online game.
Anton Titov, Cryptobots' CBDO (Chief Business Development Officer), will answer 10 questions from the Cryptobots players.
1. What audience are Cryptobots aimed at?
We are aiming at a wide audience of not only crypto players, but also fans of casual games. The audience of NFT gaming is limited, but there are billions of "classic" gamers. Many of them have already heard of/tried crypto products, but have not been deeply involved. This issue should be solved by providing high-quality onboarding.
2. Is it worth playing if you are not into crypto?
You don't have to be a crypto expert to enjoy the game and earn in Cryptobots because most casual gamers are already familiar with the general features of the in-game economies. For a comfortable game, players would need to understand the basic security rules and core principles of the blockchain: it usually takes about 30 minutes to get a good grasp.
3. What is your mission?
Our goal is to create a p2e project that will be built on the principles of a multi-layered and stable economy, not a pyramid, and to make a game with an interesting gameplay and a balance, that wouldn't consist of repetitive grinding.
4. What will be on the mainnet?
There will be battles of Bots and Spaceships, upgrades of Bots and Ships, and services that players will be able to create on their lands. The functionality of Alliances will expand: they will be able not only to own land but also to store other NFT cassettes in liquidity pools and to use them for profit. Alliances will be able to fight among themselves for resources and influence.
5. Who would be able to play on the mainnet?
To play on the mainnet, a person needs to have 3 cryptobots with which they can create the first team. A more budget option is to buy 2 Bots and manufacture the third one with them.
6. How the Lands will be utilised and how will the business be arranged in the game?
Lands are a fundamental part of the game and of its economy. You can build your own structures (businesses and services) on them, you can rent them out to other players, and you can also utilise them to mine resources.
These features will be implemented with buildings that can be constructed on the Lands. For example, a repair shop will fix Ships and Bots for other players, or a consumables shop that produces utility items for sale. It is important that landowners provide services to other players directly, which makes the economy more engaging and multi-layered.
7. What are the prospects of your project?
We want to find a balance between interesting and multi-level gameplay and stable and predictable earnings. By solving the problem of play2learn projects with a short-living Ponzi-like model and achieving a real economic balance, we see the prospect of hundreds of thousands of Cryptobots players in 2023.
Through the rental system and mobile-first approach, we see great potential for the development of the audience of our project through classic distribution channels (Facebook Ads, Google Ads).
8. The NFT and crypto market crashed. How do you see the future of the industry?
It is common to consider a market crisis as something evil. That's not correct. Yes, it is more difficult to work in a bear market, but this natural process sweeps away projects that are less relevant to the market, leaving projects with their own identity, resources, and flexibility to survive difficult times and grow further.
9. How much does it cost to create a game? Does it make sense for small studios to enter the industry now?
The budgets are very different and depend on the genre: you can make a prototype for both $20K and $500K. But the marketing budget should exceed the development budget by 2-3 times. For smaller studios, it makes more sense to join the small and developing ecosystems.
10. Where do you see the NFT games market in 10 years?
A very popular thesis about an incredible "metaverse" where all projects will be interconnected and players will use their NFTs in all games is a utopia that is impossible in the foreseeable future, at least for technical reasons.
From an economic point of view, we believe that the P2E market will move towards stable, multi-layered economies with native integration of NFT assets. From a gaming point of view, the importance of gameplay for players will grow, and, as a result, the quality of production will also grow. NFT games will no longer be considered as purely financial instruments with a high entry barrier but will become a true part of the gaming industry.
For readers of the itez blog, Cryptobots developers have extended registration in the second season of the testnet until its very end! Fill out the questionnaire to get into the closed channel on discord and participate in the NFT drawing from the Cryptobots Companions collection. And if you do not have time, you will have to buy Bots to enter the game. You can buy Ether to purchase Bots at the most favourable rate for fiat, as always, at our convenient itez service.