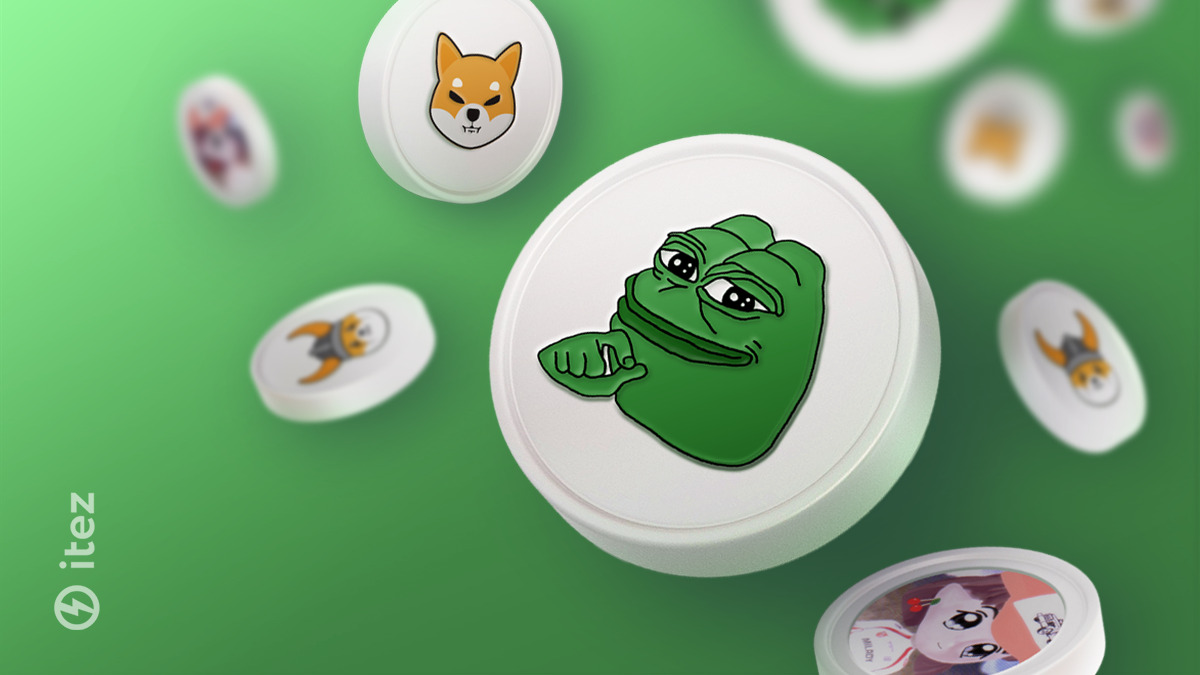 Memecoins became the hottest spring 2023 crypto market trend. The community uses this term for crypto projects without fundamental values that are made up around memes. Let's learn how PEPE ran into the top 100 most capitalized cryptocurrencies and why investors should think twice before purchasing such coins.

What is PEPE
PEPE is a crypto project that is based on the Pepe frog meme invented by artist Matt Furie. He created the Boys Club comic book in 2005. One of its characters was Pepe the Frog. Matt Furie himself, as it turned out in an interview, had no clue about the crypto project.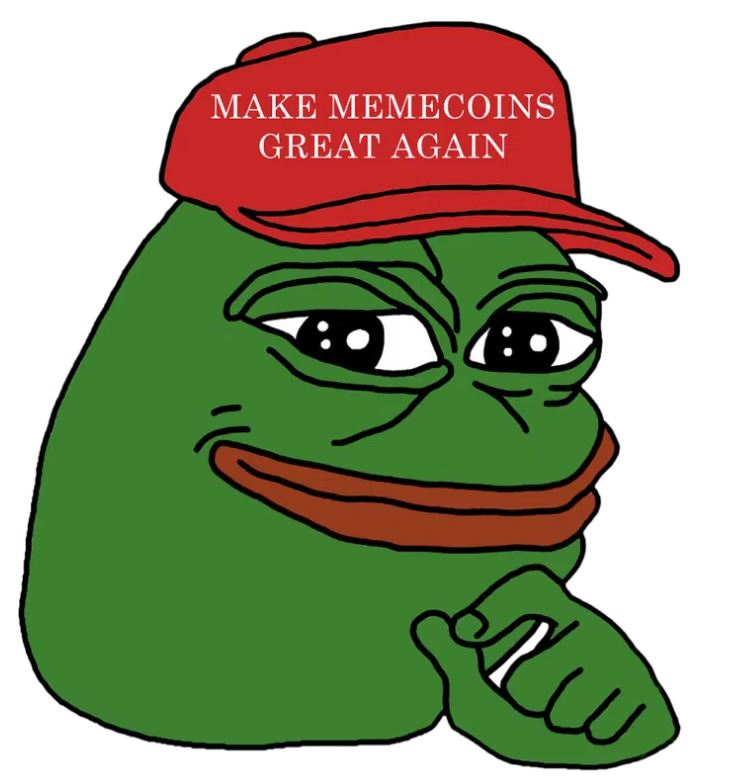 The PEPE meme has become a symbol for former US President Donald Trump's supporting program. That is why Frog's images often contain slogans with references to the politician's election campaign «Make America great again» slogan.
Here is the basic information about the PEPE cryptocurrency at the time of writing (May 25, 2023):
📈 The maximum value of the cryptocurrency is $0.000004354 (May 5, 2023), and the minimum is $0.00000002764 (April 17, 2023). The current rate is $0.000001432 (67.01% below the maximum).
🪙 The supply is limited. The developers released 420,690,000,000,000 coins. 93.13% are in circulation.
💰 Market cap — $561,027,690. PEPE takes 72th place in the list of 9707 coins in the CoinMarketCap capitalization rating.
💼 Cryptocurrency has 116,081 investors. The largest share of coins (16.6766%) belongs to the Binance crypto exchange.
You can buy PEPE using popular crypto exchanges like Binance, KuCoin, and Kraken. Use the link to learn more about exchanges that listed the coin and extract data about trading pairs.

How PEPE became trendy
PEPE entered the market in April 2023. The project took about a few weeks to go viral. Let's compare the amount of Google searches for PEPE, the most capitalized cryptocurrencies Bitcoin and Ethereum, and the most popular memecoin Dogecoin. In a nutshell, the last one is a crypto project based on a meme with a Shiba Inu dog.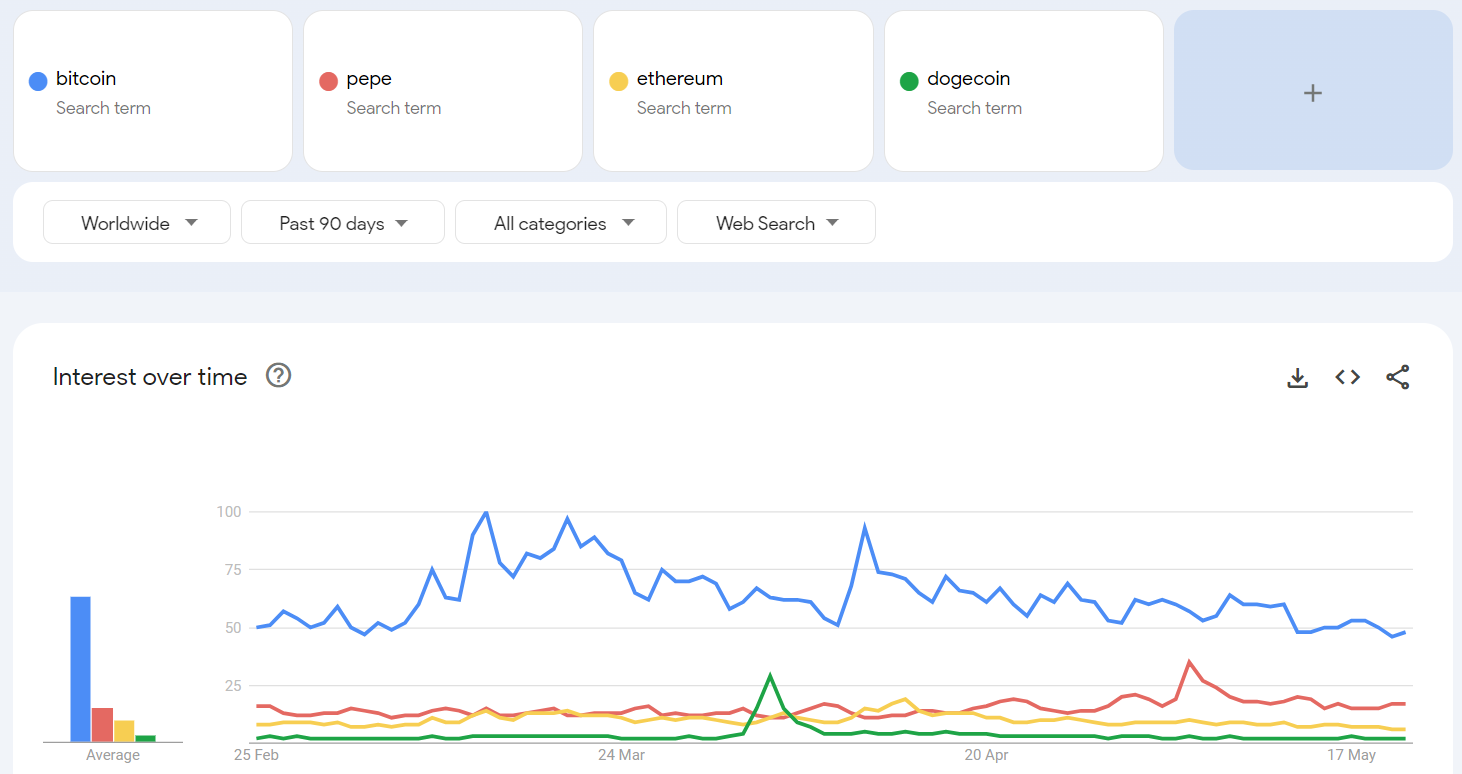 PEPE vastly outperforms Ethereum and Dogecoin in terms of Google searches globally over the last 90 days.
DeFi Watch analytic platform founder Chris Black is sure that the hype around the project is not an accident. He believes that PEPE was supported by powerful people with big money who had known how to make the coin go viral. It makes retail investors nothing more than «pawns in a much bigger game».
PEPE listings on major crypto exchanges (e.g. Binance) supported its spread. Large listings always attract potential investors' attention and raise the price. Exchanges themselves are always happy to add some extra fees selling hype projects.

PEPE chart. The vertical line is the date when Binance announced the PEPE trading launch. The news drove the cryptocurrency price up by 127%.
Early investors were able to earn a lot using the PEPE hype. For example, the dimethyltryptamine.eth crypto wallet owner, according to Arkham Intelligence, turned $260 into $8 million.

What's wrong with PEPE
🧑‍⚖️Firstly, the meme author had no idea that developers were going to use Frog for commercial purposes. By the way, Matt Furie already has experience dealing with such illegal activity. In August 2021, he secured the PEPE-inspired Sad Frogs District non-fungible token (NFT) collection's removal from the OpenSea marketplace. It means that Furie can take action against memecoin too.
👤 Secondly, the PEPE developers are anonymous. It is always risky to invest in such ghosted crypto projects without personal identities. Nothing will prevent anonymous people from draining investors' wallets and dissolving into space so that no one can ever find them.
🤨 Thirdly, there are some technical issues in PEPE code. At the beginning of May 2023, Goplus analysts found suspicious details in it. For example, PEPE developers can block coins' owners. It means that the investor will no longer be able to sell his assets.
According to Certik analysts, concerns are overstated: the company estimated memecoin's «health» at 76.84% out of 100%. A similar assessment was given by Cyberscope.
😬 Also, PEPE doesn't have any heavy supporters who can extend its life. For example, Dogecoin has Tesla founder Elon Musk as its main defender. The businessman posts positive things about cryptocurrency and his investments.
It is interesting to recall that Piplsay analysts published research that says, as of spring 2021, 37% of American investors make decisions to buy or sell assets based on Musk's tweets. Binance CEO Changpeng Zhao believes that Musk is the one who keeps Dogecoin alive. Without him, according to Changpen, the coin would go into oblivion to other useless meme coins.

Other memecoins
PEPE and DOGE are not the only memecoins on the market. There are a lot of similar projects. Let's take a look at some of them.
Dog coins
🦮 Shiba Inu (SHIB). This is a Dogecoin parody. Its name refers to the meme dog's breed.
🐕 ArbDoge AI (AIDOGE). This is a dog coin for the Arbitrum crypto project community, which combined the Shiba Inu meme and the artificial intelligence hype.
🐶 FLOKI (FLOKI). The cryptocurrency was named after Elon Musk's dog. It is not difficult to guess what kind of breed it is.

Not only dog coins
There are many other dog coins on the market. Let's distance from them and move on to the other memecoins.
👩 Milady Meme Coin (LADYS). The symbol of the project is an anime-styled girl image from the NFT collection. On May 10, 2023, Elon Musk posted LADYS image of LADY. Cryptocurrency skyrocketed immediately.
🐉 Dejitaru Tsuka (TSUKA). The project revolved around a dragon meme picture. Its website says that this symbol gives strength to its investors.

Unusual coins
The memecoin group also includes unusual cryptocurrencies. Here are some examples:
🍌 Banana cryptocurrency Banano (BAN). This is how the developers themselves describe the project on its official website: «Cryptocurrency with a cool yellow logo».
🧄 Garlic cryptocurrency Garlicoin (GRLC). The project website says that Garlicoin is a friendly decentralized cryptocurrency that «you have never heard of before». The idea of creating a project belongs to Reddit user /DigitalizedOrange. The developers have focused on creating fast and cheap crypto transactions. Nobody knows why they used garlic as a symbol.
😩 Bad luck Loser Coin (LOWB). The project website says that its creators are typical unsuccessful programmers. One is a father of two living in a village, and the other is a programmer working 60 hours a weeb. Both have lost a ton of money on bitcoin. They invested everything they had in this project so rug pull is impossible.
🦆 Crypto Scrooge McDuck RichQUACK.com (QUACK). The project is built around the rich hero of the Disney animated series «DuckTales». The creators decided to make fun of people who don't want to do anything, but want to become rich by chance.
🧬 Smart cryptocurrency Einsteinium (EMC2). The developers used the name Albert Einstein to fundraise for scientific projects through a coin sale.

Think twice before investing in memecoins
Memecoins have no fundamental value. Their developers do not offer market participants new technical solutions. The main thing is not the benefit, but the hype. A coin's value directly depends on demand. The more hype, the higher the price tag. History shows that investors can earn a lot by catching the promising memecoin project in its early stages. But it is always important to remember that as soon as market participants' attention falls, the coin's rate can rush to zero.
There is nothing technically special about such projects. Anyone can create their own memecoin. The proof is a viral video that shows how to make one in 27 seconds. That's why many experienced members of the crypto community doubt memecoin's value. For example, such coins are actively criticized by the founder of the largest crypto exchange Binance, Changpeng Zhao.
At the same time, there are memecoins that have proven their viability. Dogecoin is an example. It owes its success to Elon Musk. Without him, according to Changpeng Zhao, Doge doesn't have even a small chance to keep living.
It's always better to buy really valuable assets that survived the hardest times and stood unshakable. Those are Bitcoin, USDT, TON and some others you can buy via itez service. We have a Lithuanian regulator license as well as transparent policy, low fees and fair price approach. Be sure to use itez for your first or numerable crypto purchases. Before buying, learn more about wallet creation.
💌 Telegram, Instagram, Twitter, Facebook
​​This article is not an investment recommendation. The financial transactions mentioned in the article are not a guide to action. Itez is not responsible for possible risks. The user should independently conduct an analysis on the basis of which it will be possible to draw conclusions and make decisions about making any operations with cryptocurrency.