On August 22, Thailand's parliament elected a new Prime Minister, Srettha Thavisin. He is famous for his high-profile election promise about airdrops and ties to the crypto community. We have collected the most interesting facts about him in one article.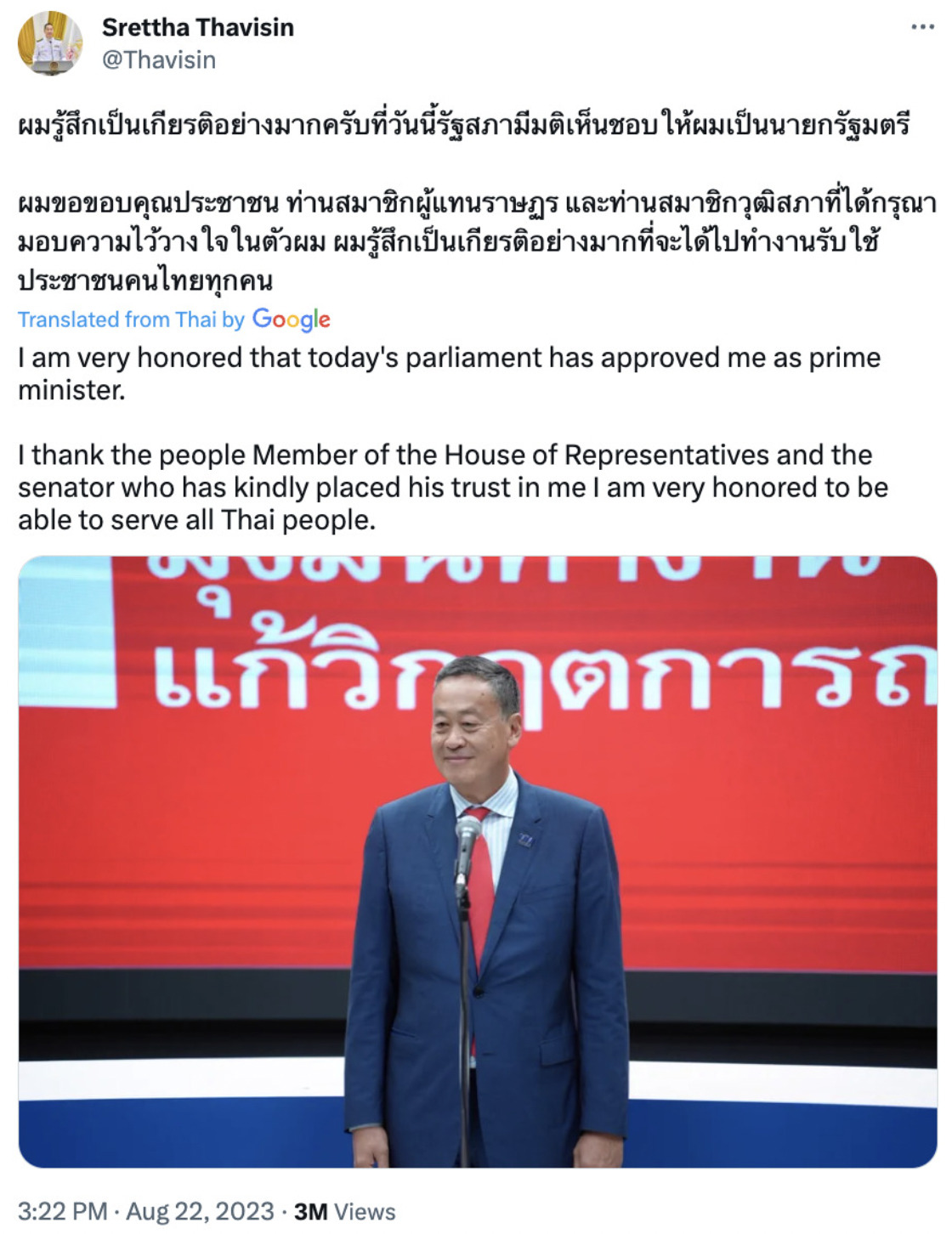 Srettha Thavisin's promise
In April of this year, Srettha Thavisin promised to give away 10,000 baht (≈$300) to every citizen over the age of 16 if he won the election. The initiative is projected to cost nearly $14.5 billion. However, apart from the age conditions, the airdrop has a few more important parameters:
💸 The funds will be available on January 1, 2024, with a usage period of 6 months.
🏘 The funds can only be spent within a radius of 4 kilometres from the recipient's home.
🤔 The funds will not be issued in crypto or digital currency; instead, it will be facilitated through a "national token", details of which are not yet disclosed.
The last aspect of the initiative has raised questions and misunderstandings. In an interview with CoinDesk, Udomsak Rakwongwan, co-founder of FWX.finance, a decentralised derivatives platform, expressed his doubts. He said that using blockchain technology is good, but "the majority of Thais are already using Paotang, a digital banking wallet tailored for government initiatives. This may be simpler and easier to implement compared to a potentially more complex blockchain".

Insights into the new Thai Prime Minister
Srettha Thavisin is known as the former president and CEO of Sansiri, one of the largest property developers in Thailand. In 2021, his company acquired a 15% stake in XSpring, a Thailand's digital asset services provider. XSpring, along with Krungthai Bank, provides crypto brokerage services and operates as a licensed ICO portal.
In 2022, Sansiri launched its SiriHub token on XSpring, which is realised by one of Sansiri's companies, Sansiri Campus. Token holders receive dividends from the company as part of the agreement.
However, in April, 2023, Srettha Thavisin stepped down from his position as CEO of Sansiri due to political turmoil.
Whether his promises are a marketing gimmick or Thailand is to become a crypto hub, we will find out within a few years.

Also read:
South Korean officials seize crypto for taxes
Singapore to regulate stablecoins
Kuwait implements ban on crypto