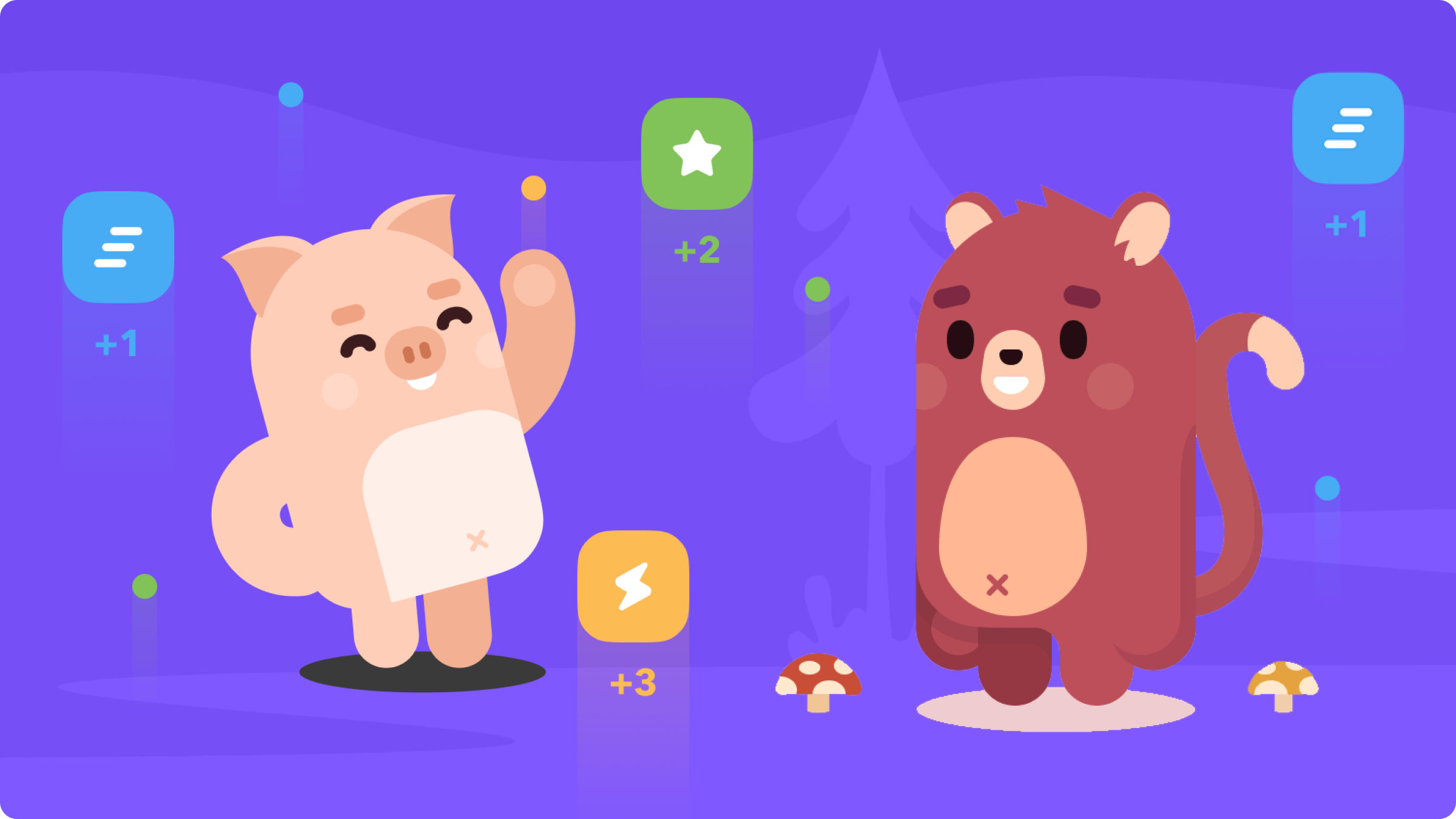 A couple of weeks ago, the NFT game Walken began to gain popularity on the web. Users share the successes of funny cats, pigs and other animals, whose rating increases depending on the steps taken by their owner. The real steps in a real world. In the article we will talk about what Walken is, how the game works and estimate how much money you can earn for everyday activity.

The mission of Walken
Walken is an Android and iPhone app launched on June 20, 2022. This project combines NFT, cryptocurrency and two popular formats: move and earn, play and earn. The game is developed on the Solana blockchain and is a great way to popularise cryptocurrencies and NFC, as well as a healthy lifestyle.
By gamifying common activities such as walking and running, developers want users with a sedentary lifestyle to start moving and giving them good motivation such as a small income.
At the very beginning, the application randomly gives each player a character called "CAThlet" (cat + athlete). While walking or running in real life, the project participants receive the game currency gems, which can be used to increase the level of the hero. At the same time, it will not work to deceive the application by tying the phone to a pet or imitating walking by any other methods: the developers have prudently added tracking of the distance and identification of fraudulent actions. In addition, Walken syncs with an app on a smartphone that counts steps.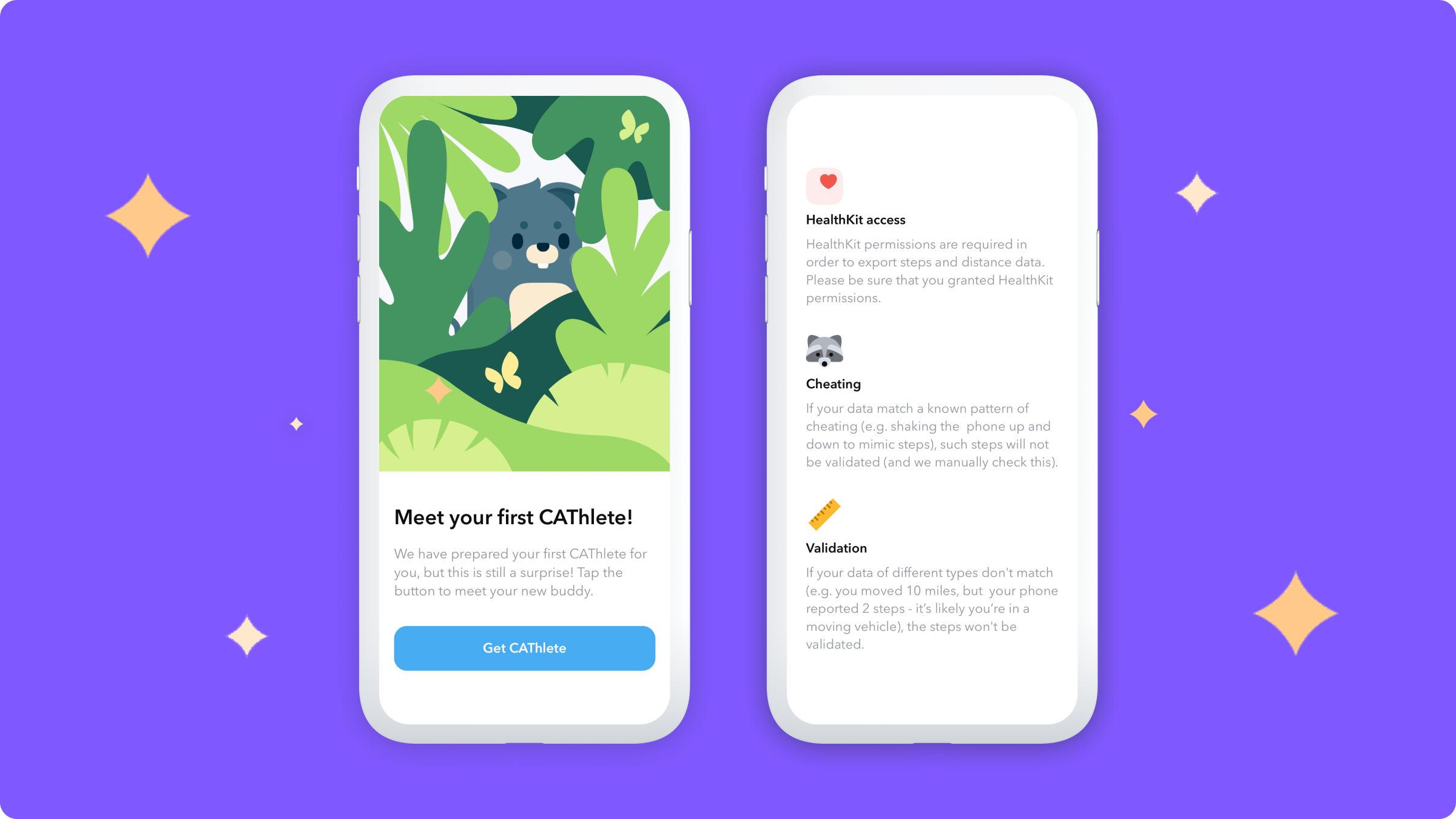 Wallet registration and application interface
Right after downloading the application, you will need to register. You may not come up with a username and password, but log in using a Google or Apple account. The application will automatically create a Solana crypto wallet.
When registering a wallet, a seed phrase will be automatically generated. It must be stored in a safe place: if you do not do this, when you exit the profile, you will not be able to log in to the account again, and all progress will be lost forever.
After registration, the user finds himself on the main page of the application. The interface consists of five tabs:

👛 wallet – in this section there are three wallets (GEM, WLKN, SOL), for each of them you can track expenses and income;

📊 statistics – here you can check the activity data (steps, distance) for the day and for the week;

🥊 competitions – this section gives you the opportunity to earn WLKN tokens, which can be spent on raising the level of CAThlet or on game items, as well as it can be withdrawn as real money;

🖼 collectibles – your CATlets and their inventory are stored in the section;

🛍 store – here you can buy new characters, NFT-clothes, accessories and items.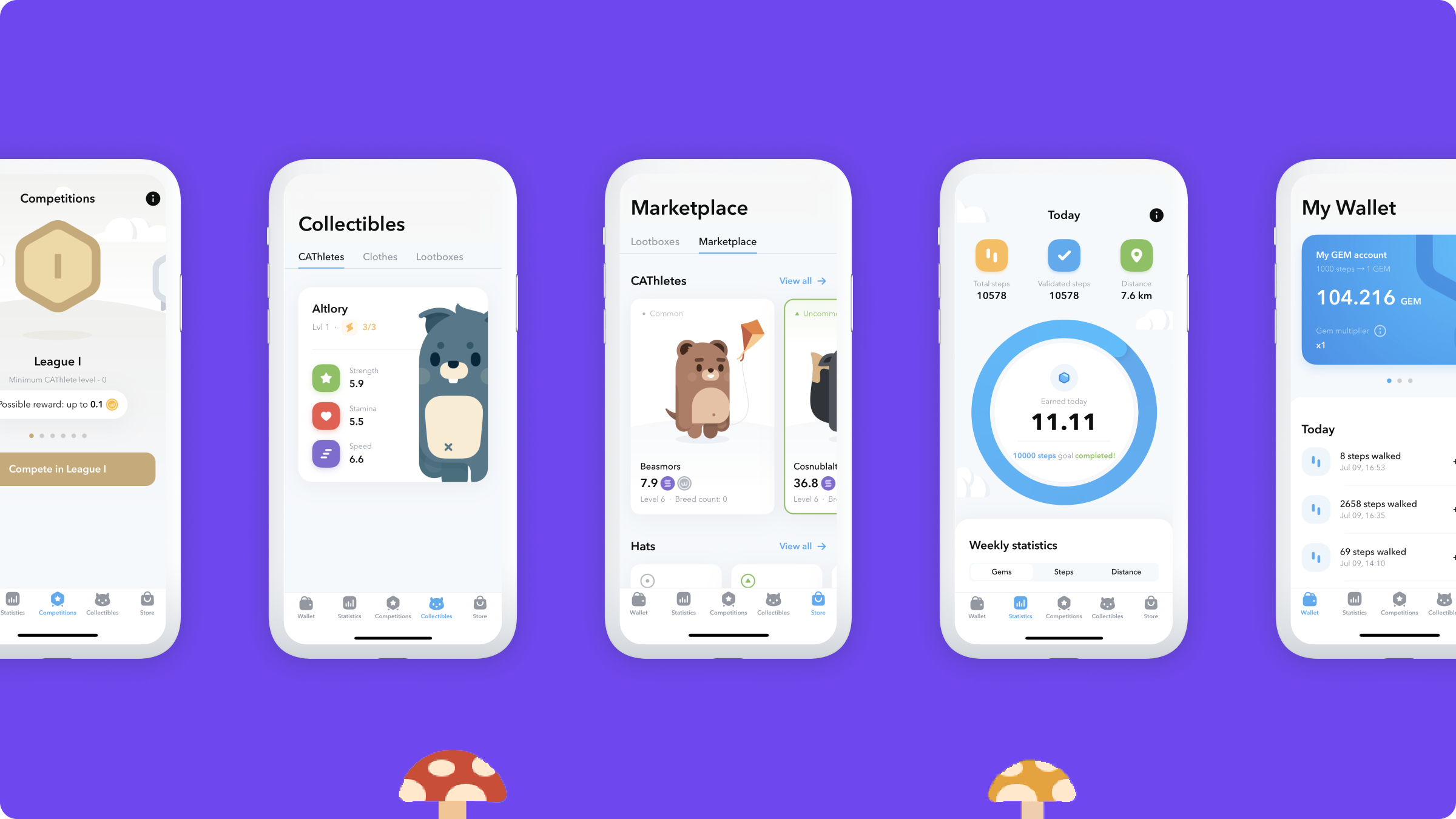 Is it possible to earn money by walking?
There are three wallets in the Walken game, and each of them has its own special functions:

💎 GEM wallet is used to store in-game gem currency. Gems are accrued for your steps: 1 gem is 1000 steps. For 10,000, the player receives 5 additional coins. Gems are needed to level up characters. If a player has more than one CAThlet, coins are accrued for each of them!

🚶‍♂️ WLKN wallet stores the WLKN cryptocurrency token. It is awarded for participation in competitions: the more characters, the more coins. It can also be bought, so far only in exchange for SOL, which in turn is purchased for a stablecoin, for example, USDT. WLKN, like gem, is necessary for the characters to move to a new level. In addition, various NFT items and new CAThletes can be purchased for WLKN. The most important thing is that WLKN can be withdrawn to the main SOL wallet. However, there are two requirements: it is necessary to have at least one NFT in the collection, and the minimum transaction amount is 20 WLKN.

🌞 SOL wallet is needed to store SOL, the Solana blockchain token, on the basis of which the game was developed. SOL, like WLKN, can be used to purchase NFT items and characters in the marketplace. In addition, it is used to pay transaction fees. The developers note that soon this wallet may disappear from the app, and then WLKN will become the main currency of the project.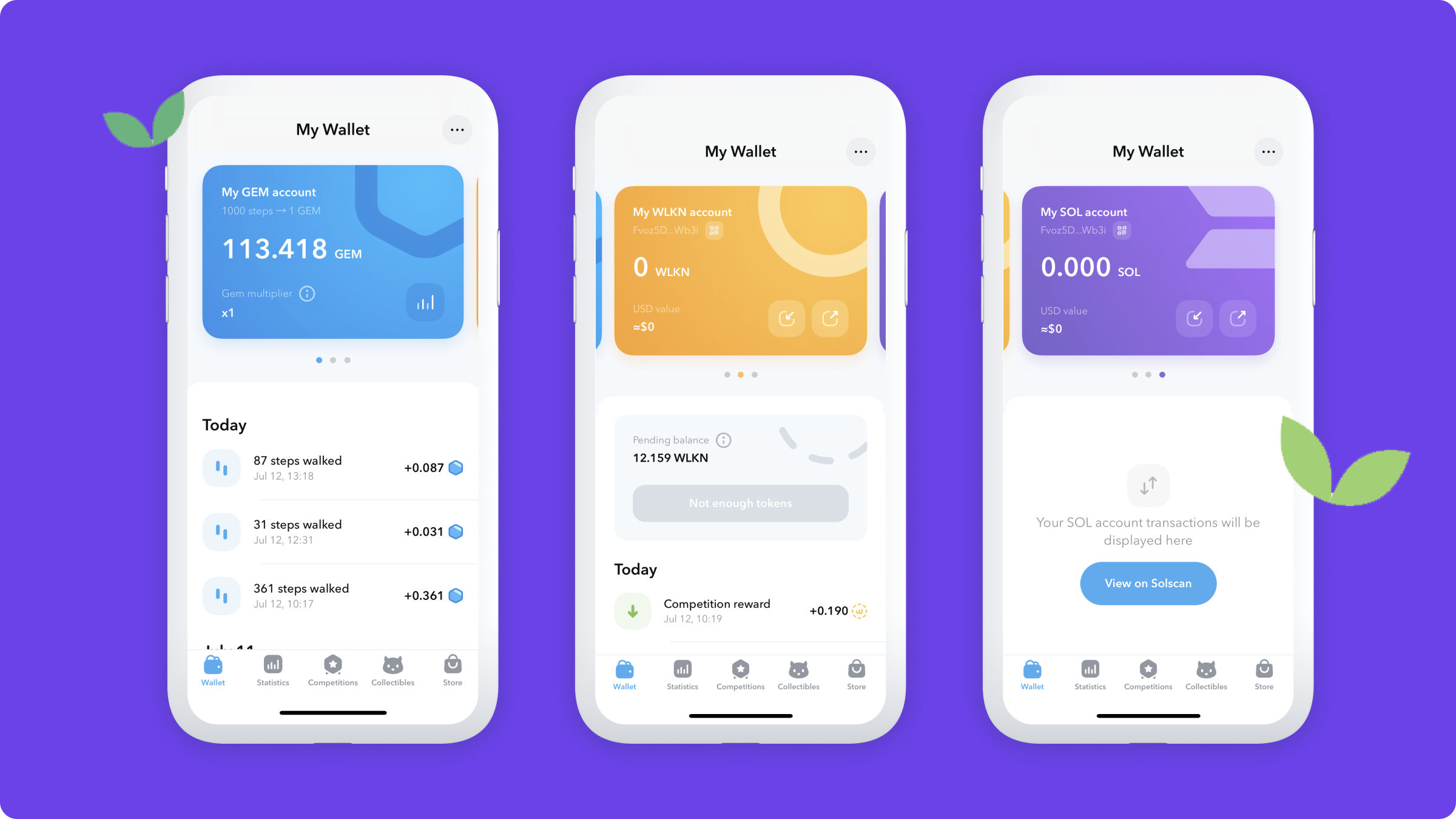 Thanks to the Walken game, you can earn money on steps. The most advantageous would be a long-term tactic, when the player does not withdraw the first received coins, but reinvests them by buying NFT items and characters, which allows to have stronger CAThlets that will bring more WLKN.

NFT-character upgrade
As mentioned above, when registering, each player is randomly given one CAThlet with a unique name. CAThlets are characters that become in-game NFT when they reach level 6. They can be bought and sold for WLKN and SOL.

Each CAThlet has a unique set of 6 attributes that determine his appearance and rarity: these are color, body, ears, environment, tail, and face. In turn, there are 6 categories of rarity of CAThlets and NFT items in the game: common, uncommon, rare, epic, legendary, unique. By developing the character and using items and clothes, you can increase the level of rarity. The more rare a character is, the higher his characteristics and abilities to win competitions.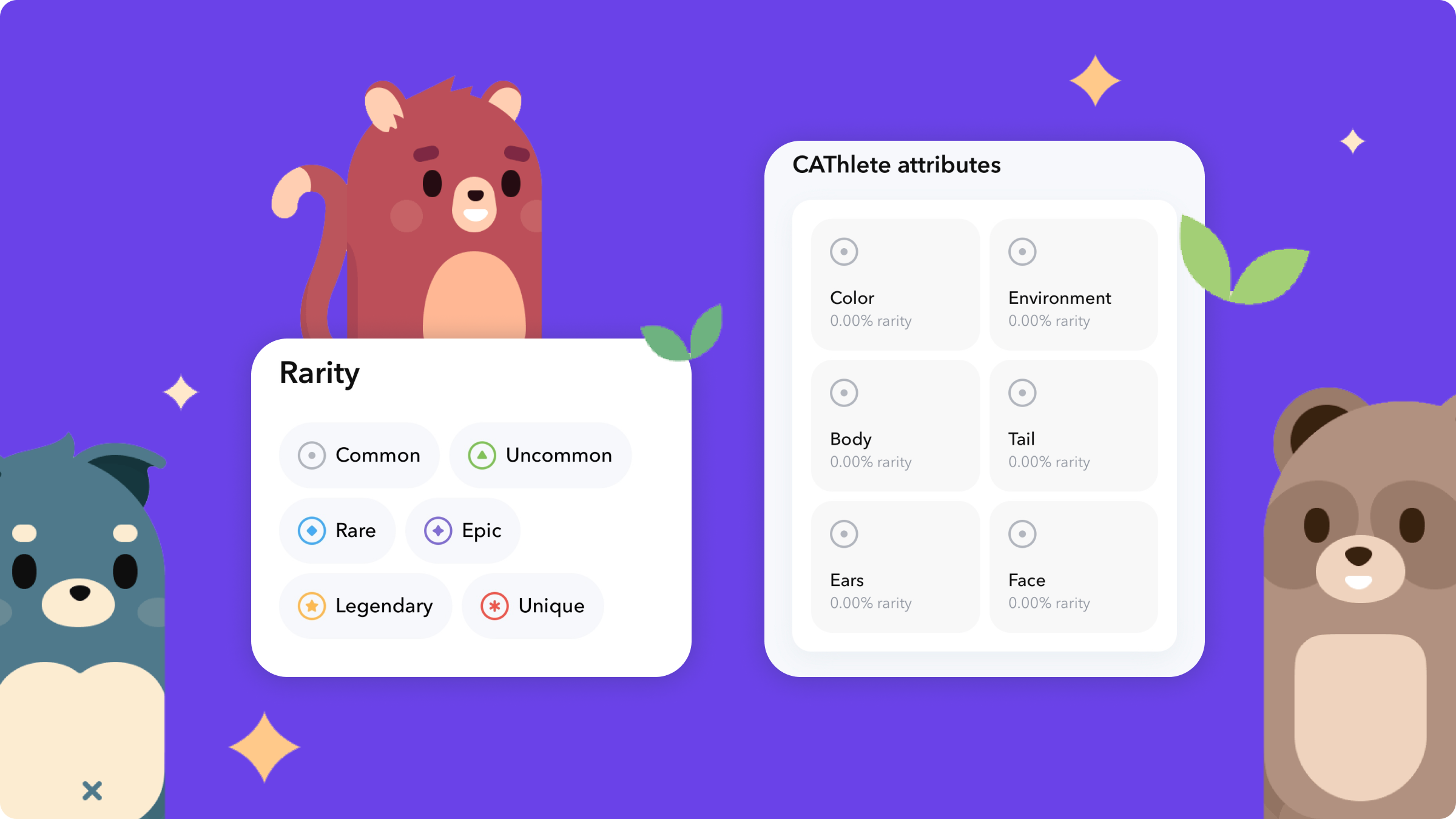 Attributes determine three running characteristics of CAThlets:

⭐️ strength,

⭐️ stamina,

⭐️ speed.

All of these characteristics have a genetically predetermined maxima that a character can achieve. When CAThlet moves to a new level, the highs increase by 10%. In addition, the characteristics may change under the influence of NFT items and artefacts that can be purchased in the marketplace. We draw your attention to the fact that each item affects certain characteristics of the CAThlet, and if, for example, your hero has the most developed speed, then you need to choose shoes or a headdress that will increase this stat.
On itez, you can buy USDT for the national currency that is stored on your bank card. In exchange for a stablecoin, you can purchase SOL and WLKN to improve the characteristics of CAThlets.
CAThlets participate in competitions, receiving WLKN as a reward for winning. There are 6 leagues, the opportunity to participate in which depends on the level of the character: the higher the level, the higher the league and, consequently, the reward.

Each league has 3 disciplines:

⏺ sprint,

⏺ city running,

⏺ marathon.

When choosing a competition, you need to focus on the characteristics of your hero: for example, stamina will be the most effective in a marathon, and if your CAThlet has it more developed than strength and speed, then you need to participate in this discipline.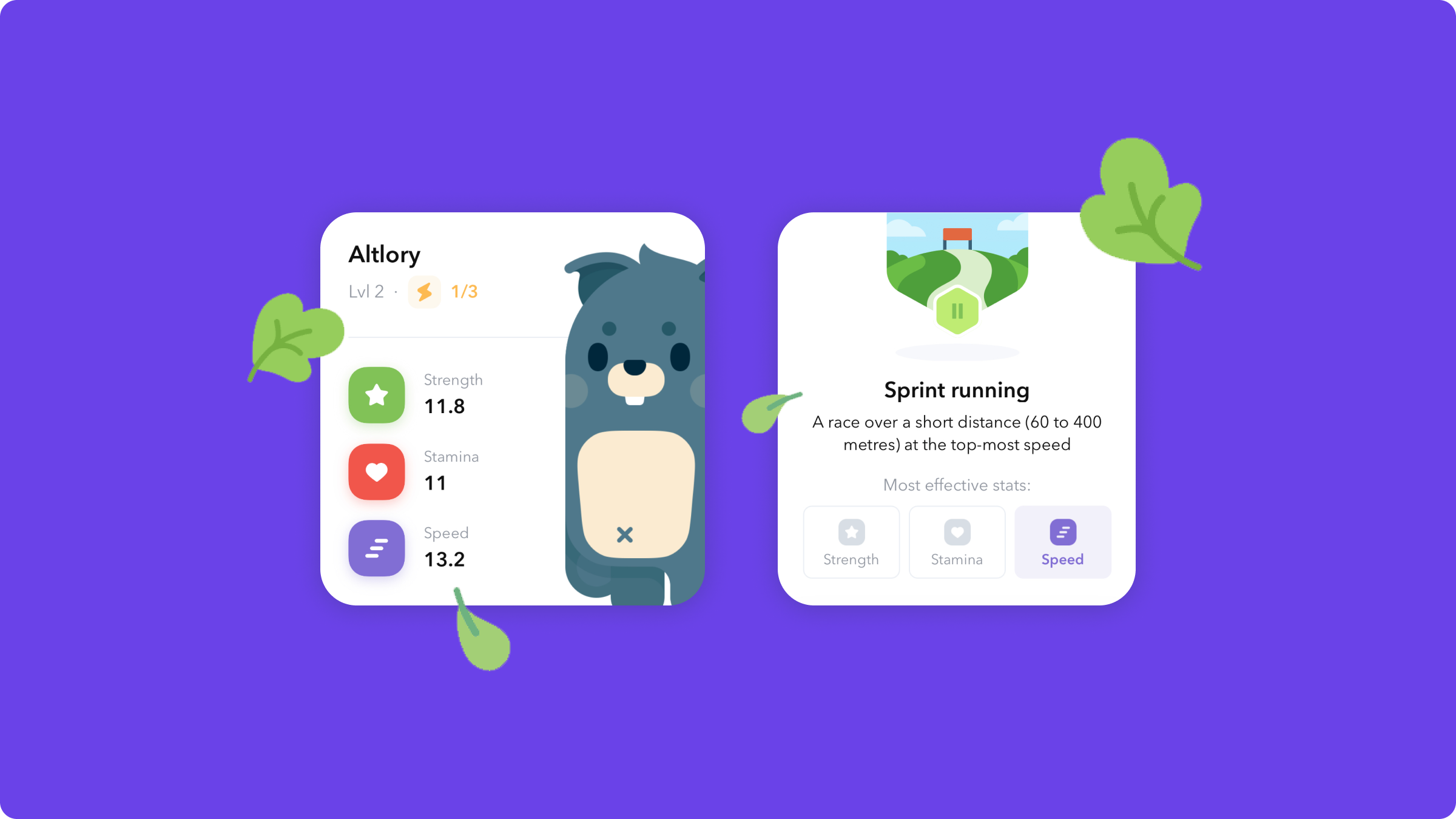 After participating in competitions, CAThlets need time to recover. For rarer and stronger characters, this happens faster, which means you can play more often and get WLKN. To improve the characteristics of CAThlets, you need to follow three simple rules: walk a lot (preferably 10,000 steps a day), participate in competitions and invest WLKN in NFT-things that help you win more often.


Brief overview on CAThlets market
There are two ways to earn a WLKN token in the game. The first is participation in competitions. The second one is the sale of NFT items and upgraded CAThlets in the marketplace. The first method was examined in detail above, so let's turn to the review of the CAThlets market.

The CAThlets that are given to players upon registration have the usual level of rarity. If we talk about the characteristics of these free heroes, then they are either about the same, or one slightly prevails over the others (this is the one you need to bet on in competitions and you should buy NFT items to improve it). The CAThlet becomes NFT when it reaches level 6, that's when it can be sold.

At the time of writing this material, the exchange rate is 1 WLKN for 0.08$:

🪙 the cheapest character in the marketplace was billed for 520 WLKN, which is comparable to 51.54$,

🪙 the most expensive one was for for 888988 WLKN=73209$,

🪙 on average most CAThlets are sold at a price in the range from 1200 to 1500 WLKN, which is equivalent to an amount of about 100-125 dollars.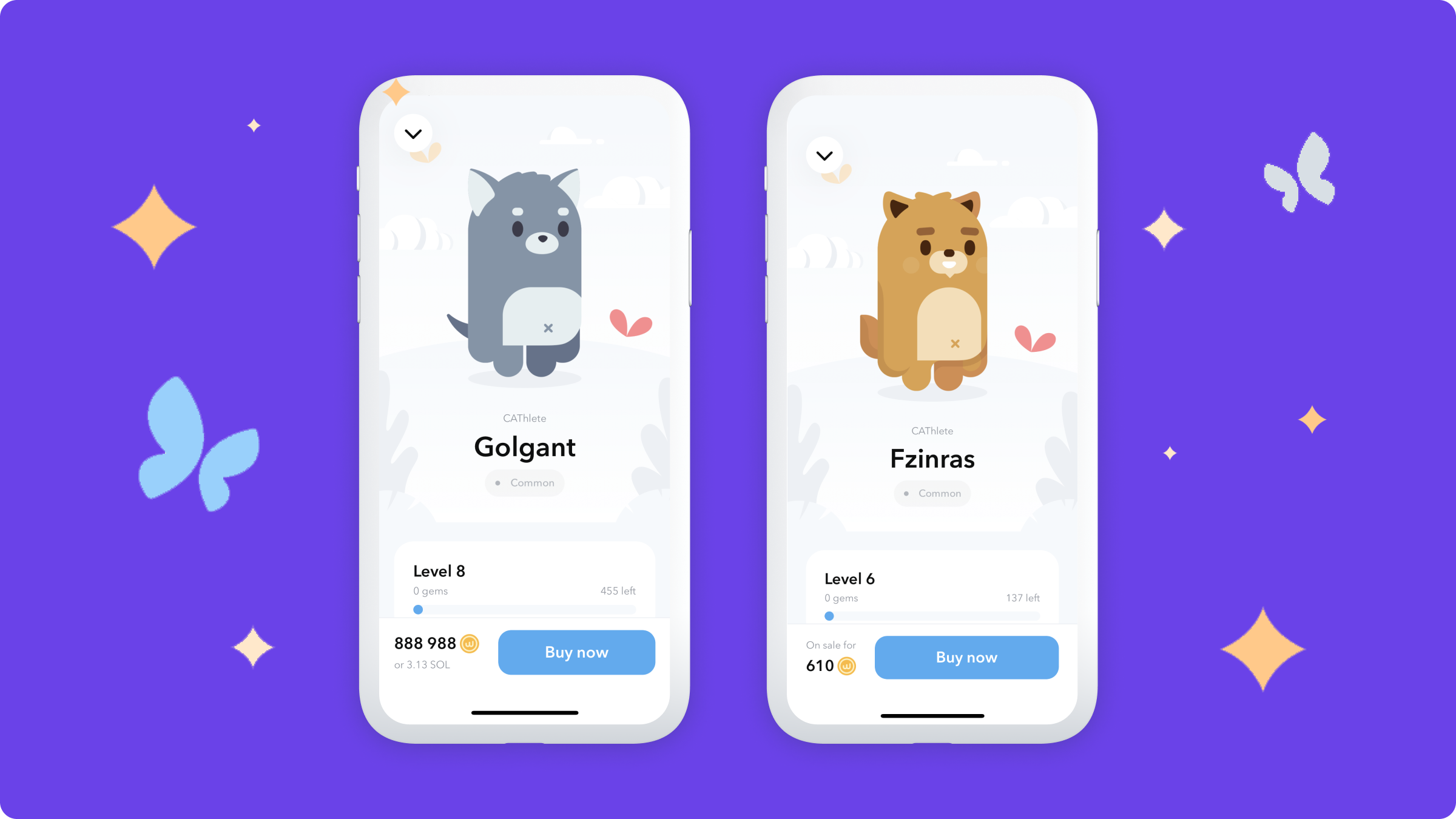 So far, a large number of items and CAThlets for sale belong to developers and beta testers. It can already be said that:

💬 Improving the CAThlet for subsequent sale without any investments at all or with minimal expenses will take quite a lot of time, from several months to a year.

💬 It is also possible to predict that prices for NFT characters and items will fall with an increase in the number of offers on the market and the introduction of the breeding function.

Our Itez team decided to make an experiment to find out how long you need to play Walken in order to get an NFT character without attachments. The application was downloaded in June, all on different dates. By 07/17/2022, our CAThlets had reached levels 2 and 3, and the amount of WLKN coins earned, not counting those spent on level updating, was from 16 to 28.

So at the moment it's hard to get in top without expenses. But the payback of purchases in the marketplace will be very long either, so when choosing an artefact or clothing, you should select an item that will improve the maximum characteristics of your CAThlet, and when buying a new hero, you should focus on its characteristics and take into account the features of breeding with existing CAThlets so that in result you will get the strongest cat.

The future of Walken
Walken was appreciated by users. In the official telegram-channel of the project, community members discuss game life hacks, compare characters. Developers are as open to their audience as possible. In the channel, you can ask a question, express gratitude or describe a problem, and sometimes players also encounter them: some players have the application that does not count steps or considers them incorrectly; many people come across too strong CAThlets in competitions, so that users who do not invest anything in app have much less losses than wins; also they complain for high prices in the market.

Now the application is still being actively developed and supplemented with new features, which means that users are waiting for a lot of surprises. In general, we can say that at the moment the Walken project is really prospective and promising. Of course, it will not become the main source of earnings for most players, but it may well be a small pleasant part of the crypto investment briefcase.
The main thing that is important to remember is that you do not need to strive to quickly earn income in the game Walken. The most future-oriented strategy will be a long-playing one, in which the CAThlets will constantly develop, and the income will be small, but constant.
On itez, you can buy USDT and then exchange it for WLKN or SOL to purchase CAThlets and NFT items that improve the characteristics of heroes. You can pay in euros, dollars and other fiat currency directly from a bank card. The transaction will be fast and transparent.

​​This article is not an investment recommendation. The financial transactions mentioned in the article are not a guide to action. Itez is not responsible for possible risks. The user should independently conduct an analysis on the basis of which it will be possible to draw conclusions and make decisions about making any operations with cryptocurrency.