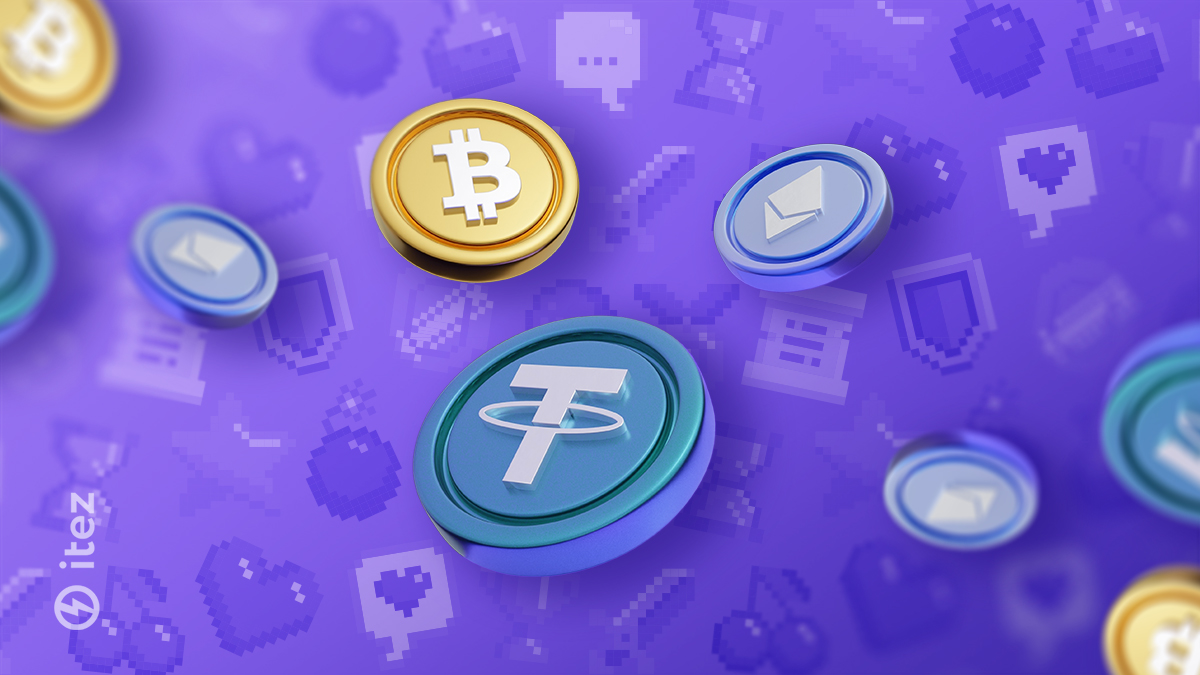 Web3 is the conception of a new internet. The new version includes crypto payments and complete data storage decentralization. To compare, in the current Web2 version information is stored in a centralized way, inside large corporations data centers (e.g. Amazon).
It might seem difficult to dive into Web3. Quests help make the process easier. It is a game-like process that helps you learn the theory, touch the decentralized Internet, and even earn some money. This article will explain why it's worth it to start completing Web3 quests right now and where to find them.

What's the Web3 quests' main purpose
Web3-quests have several aims to be reached.
🙋 They help users learn about the third-generation Internet and new projects while getting bonuses.
💼 Businesses use quests to build communities and attract new audiences.
Quests are usually created by Web3-members who support the transition from the current centralized internet model to the decentralized one: for example, Binance, Polygon, and Cosmos.
You can find different Web3-quests on the market. Some offer only learning options (Pyme). Others allow you to dive inside Web3 and try its tools (Layer3). Quests in which you can earn money are classified as quest-to-earn.
For detailed quests with straight interaction with the Web3, the user usually needs a registered crypto wallet (such rules exist on QuestN and Layer3). The wallet serves as a user ID inside the system, and it is also a way to receive rewards. A popular Web3-crypto wallet to use is MetaMask.
Many quests are available for free, but in some cases users have to pay. For example, Layer3 quests may require investments as some tasks can't be completed without cryptocurrency. If you don't have coins yet, you'll have to buy them. But don't worry, those coins will remain in your wallet as they are only used to transfer between users' own wallets.
There is no information yet about the average crypto enthusiasts income from Web3-quests. Anyway, it seems that most participants can easily return their investments. Now the market is waiting for bitcoin's halving, which historically launches new bull cycles. That means that the coins you can receive for completing tasks and other digital rewards may skyrocket and bring in a good income. 🚀

Top Web3 quests
There are just a few Web3-quest platforms on the market right now, and they have not yet gained an audience, which means that both developers and users have a chance to lead a new trend. Let's take a look at a few of the most promising platforms.
🥇 Layer3 quest platform
The platform's name is a reference to the third-layer blockchain solutions (layer 3), which reduce the main network's overwhelming. The project with the original quests is targeted at both beginners who just want to learn more about the new generation of the Internet, and experienced crypto enthusiasts who want to dive deeper into Web3 plus earn some money.
Layer3 is only available for registered users. You can create a profile using a crypto wallet. You can start quests for free. In order to upgrade the levels, you will need to purchase different projects' cryptocurrencies. For example, to explore the Polygon possibilities and learn how to conduct transactions, you need at least one MATIC token. If you already have tokens, you won't have to buy anything.
Another example: the quest that aims to teach you to operate blockchain bridges (additional layers that help transfer tokens from one cryptocurrency network to another) will require Ethereum coins. To complete the quest, ETH has to be transferred to the Arbitrum network.
The platform rewards users with experience points (XP). The more difficult the quest is, the more points you get. According to developers, XP will open up access to exclusive quests, token airdrops, and rewards.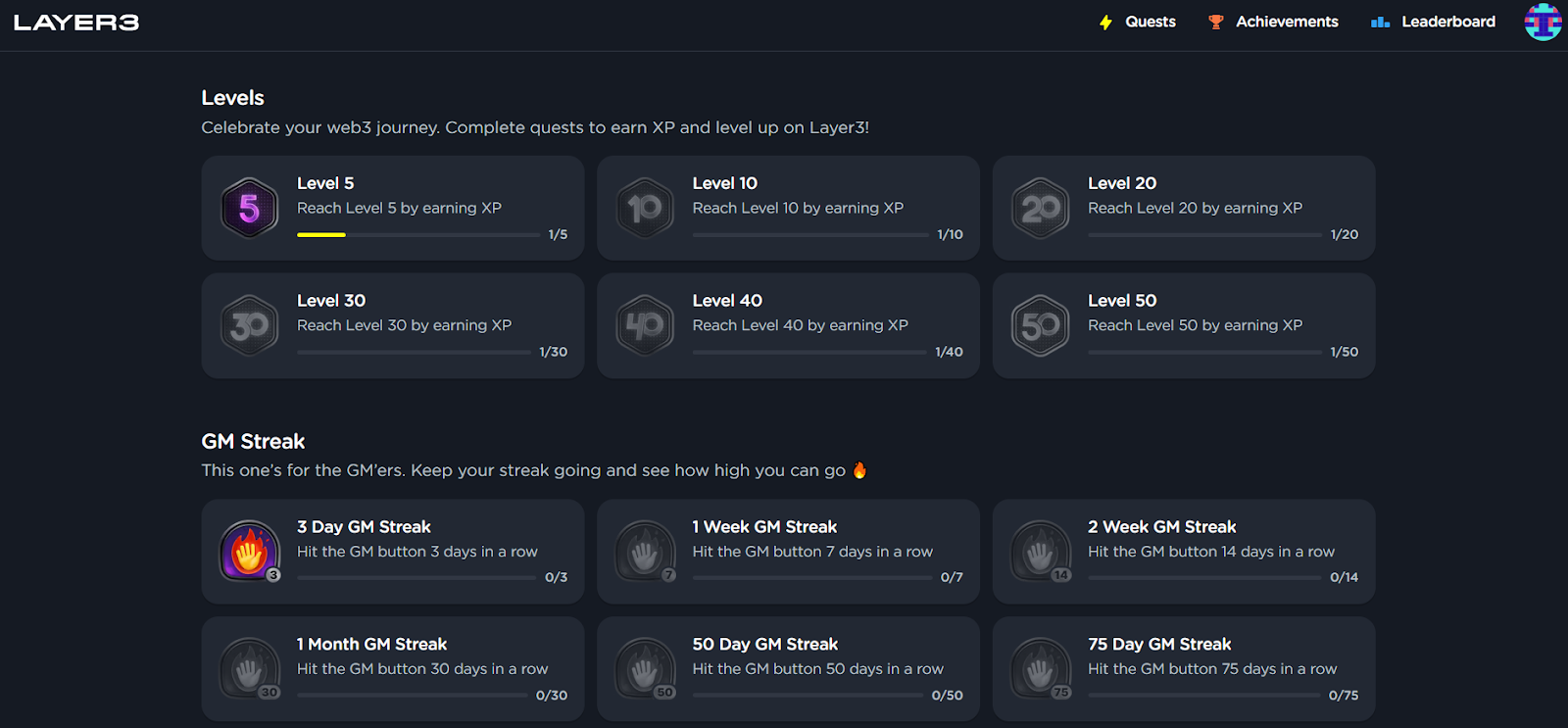 The platform offers game quests, and some of them are focused on learning Web3. Most do not require investment, but it is necessary to have a GitHub account to get access.
There are quests for both newcomers and experienced crypto enthusiasts. The platform previews the main quest data, including difficulty, prize, number of participants, and duration.
You can earn ETH by completing quests, attracting new users through the referral program, and creating quests.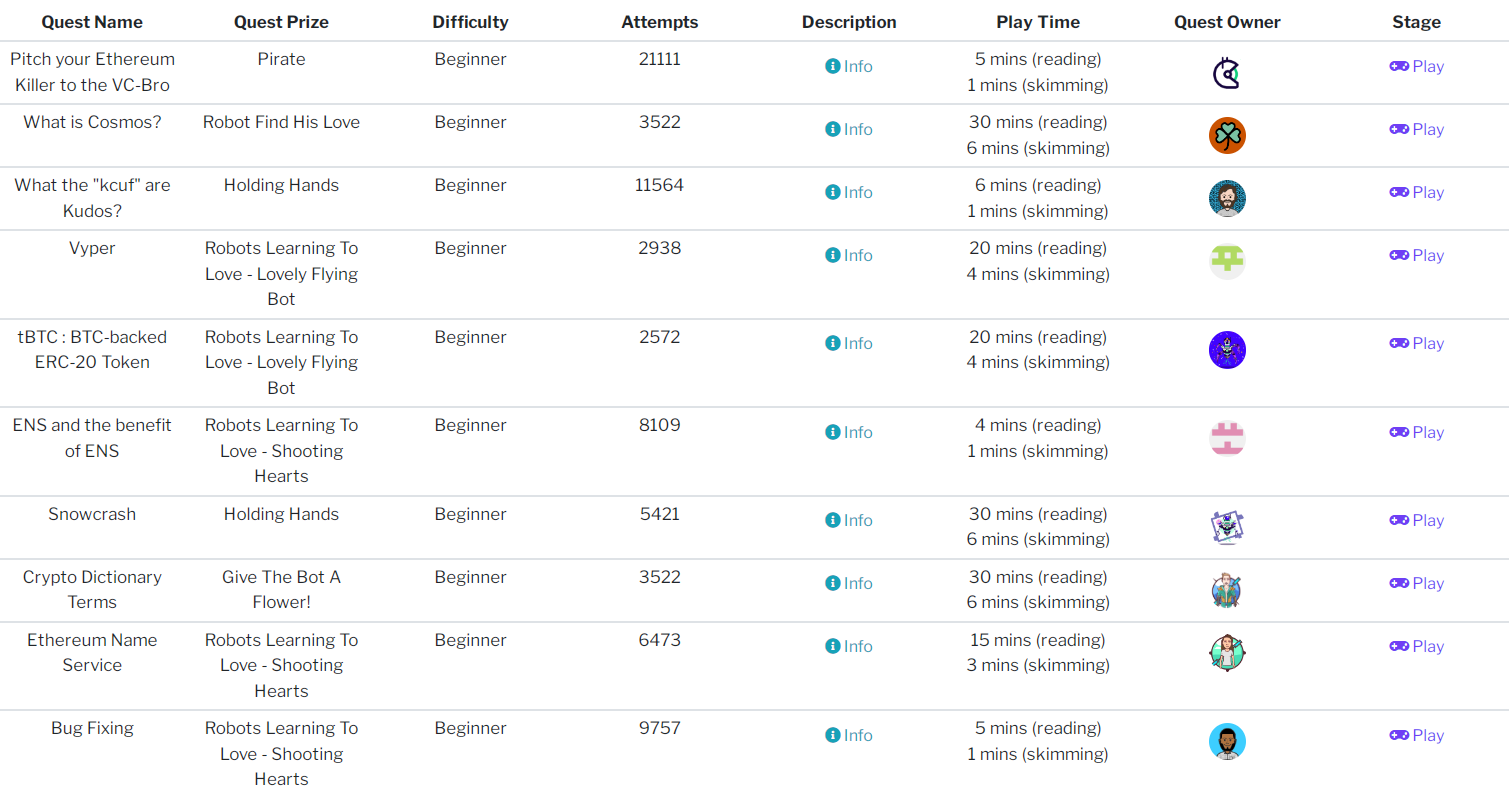 🥉 QuestN platform for creating and completing quests
There are many free quests and tools that can be used to create your own quest, as well as airdrops. QuestN provides users with a wide choice for both beginners and experienced Web3 community members.
QuestN does not have a separate Web3 section, but many quests are focused on the 3rd generation Internet. Quest cards contain data about prizes and rules. You can participate in quests using a crypto wallet, for example, MetaMask.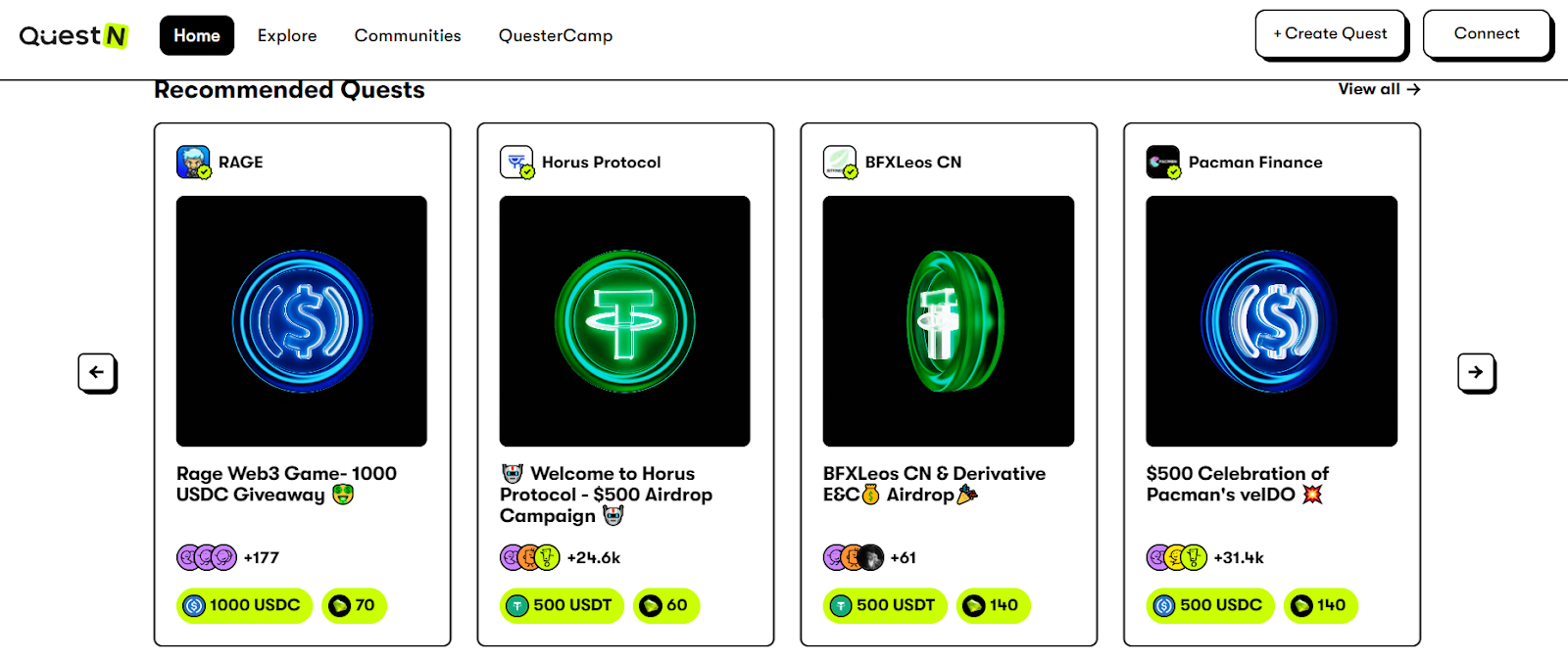 🏅 The Web3 explore platform Pyme
The project helps users learn more about Web3 projects, unlock valuable digital prizes, and interact with the new WWW generation. Pyme provides the best experience for newbies and experienced users. The platform can be described as a launching pad for promoting Web3 businesses through quests.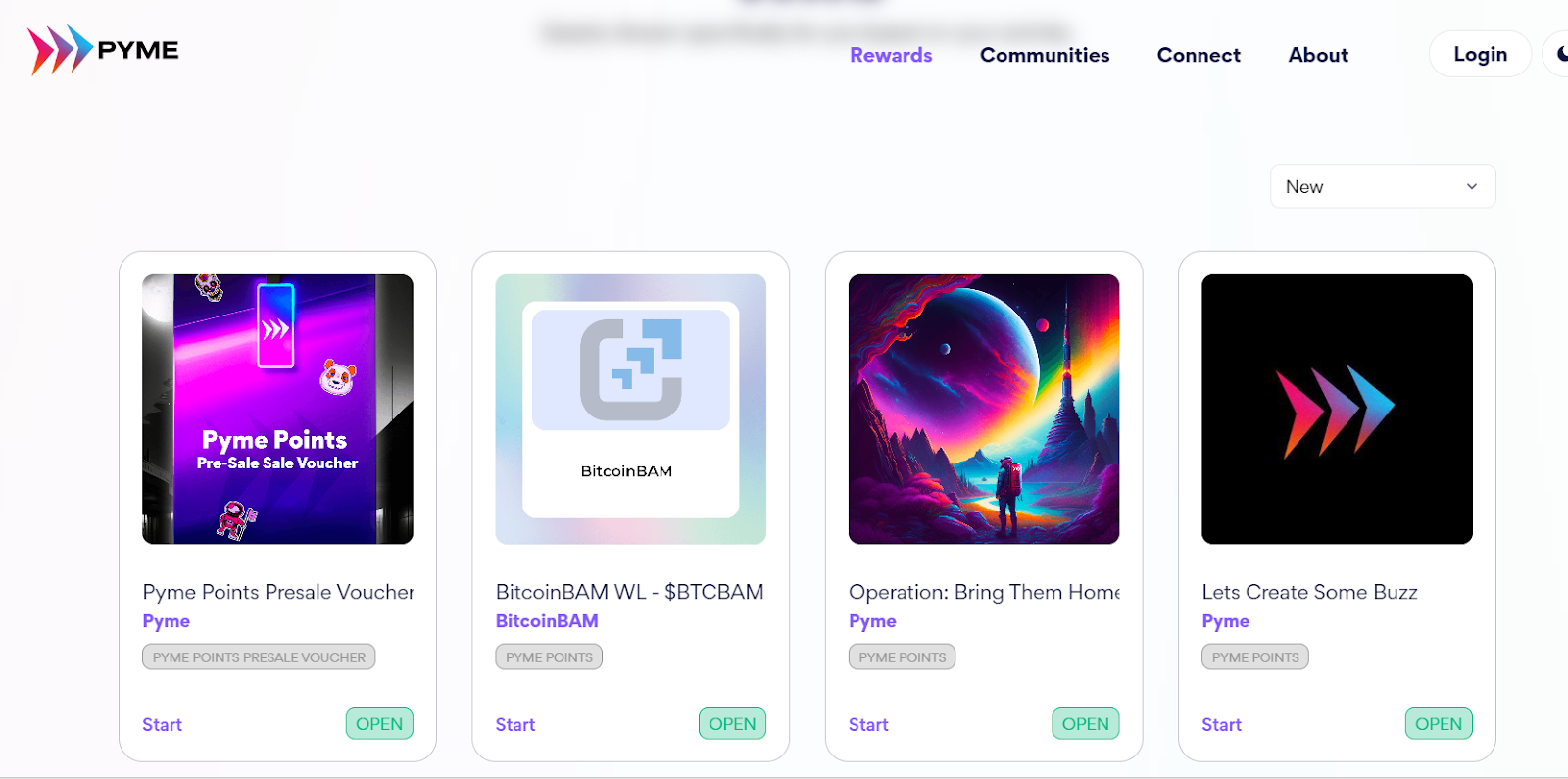 Pyme platform users can earn points (Pyme Points) and native tokens (Pyme Tokens).
🪙 Pyme Points can be used as a voice to participate in voting processes to determine the future of promising projects and unlock digital rewards.
🪙 Pyme tokens are scheduled to launch in the second quarter of 2023. After bringing the cryptocurrency on market, the developers promise to allow users to convert Pyme Points into tokens.
You can participate in Pyme quests using a crypto wallet or email.
🎖️ DeQuest gaming platform
The platform opens up entry into promising Web3 game projects. DeQuest's target audience is those who want to dive into Web3 through games.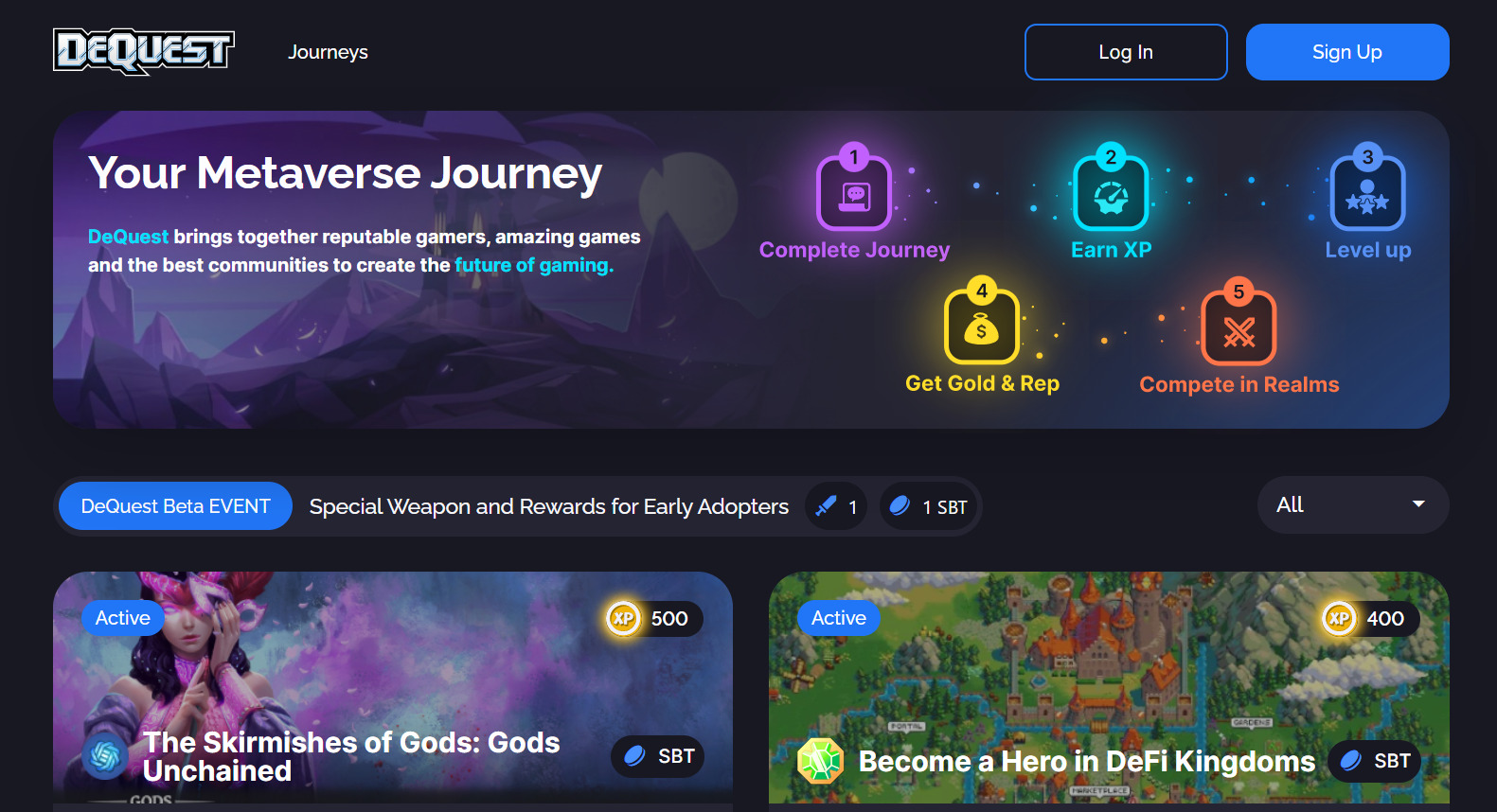 DeQuest users receive two types of digital rewards:
🪙 Experience Points (XP) needed to gain access to new quests.
🪙 Digital badges (Soulbound Tokens) needed to gain access to new levels of quests.
You can also get projects' native tokens.
Like Pyme, DeQuest registration is tied to a crypto wallet or email.

Is it worth participating in quests?
It is not a good idea to spend all your free time on quests, but they are definitely worthy. Let us explain.
For sure we are slowly moving towards the 3rd generation Internet. So it makes sense to learn what Web3 is and how to interact with it to make the adoption process easier.
You can also use quests to learn about new projects and airdrops. Early birds usually get the best. Another nice bonus is valuable Web3 rewards (for example, ETH or upcoming Pyme Tokens).
Some companies also pay to quest developers. Here is how it works: the more quests are, the more opportunities the project has to attract new users and increase activity. It means that quests also increase businesses.
But we must warn you: before participating, you should learn more about the project and the tasks it contains. Not all startups are worth your time, attention, and money. As people say, do your own research.
🧐 Have you already experienced any of the Web3 quests? Tell us in our socials!
💌 Telegram, Instagram, Twitter, Facebook
​​This article is not an investment recommendation. The financial transactions mentioned in the article are not a guide to action. Itez is not responsible for possible risks. The user should independently conduct an analysis on the basis of which it will be possible to draw conclusions and make decisions about making any operations with cryptocurrency.