On August 9, Telegram announced the imminent launch of TON Space, a non-custodial wallet for TON inside the messenger. It will be available through the @Wallet cryptocurrency bot.
To put it in context, the @Wallet bot has been serving as a custodial wallet. It can be used to buy, sell and send USDT, BTC, and TON to other addresses. Now, the forthcoming TON Space introduces a new facet to this service by working as a non-custodial wallet akin to MetaMask or Trust Wallet, but inside @Wallet within Telegram. Messenger users will be able to use both solutions as per their preferences and needs.

TON Space features
In its first beta test phase, the following features will be available in TON Space:
💎 Buying, selling and sending Toncoin, TON's native cryptocurrency (as Ether for Ethereum);
🪙 Buying, selling and sending Jettons, which are tokens existing within the TON blockchain (similar to ERC-20 tokens on Ethereum);
🌐 Using TON Connect, a solution that allows users to authenticate across different services through their TON Space.
The future roadmap includes plans for NFTs and staking options.

DeFi via TON Space
TON Space will also enable decentralized applications (dApps) support within the Telegram ecosystem. This feature equips users to seamlessly access various Web3 services that are available in TON: NFT marketplaces, decentralized exchanges (DEXs), and other DeFi components without leaving the messenger. For example, it will be possible to use Fragment, a platform that allows users to trade Telegram nicknames or buy Telegram premium subscriptions, via TON Space.

Wanna join?
Currently, you can sign up for the waitlist of TON Space beta testing. The team invites developers and crypto enthusiasts to join. Access for the wider audience is anticipated to be available by the end of the third quarter of this year.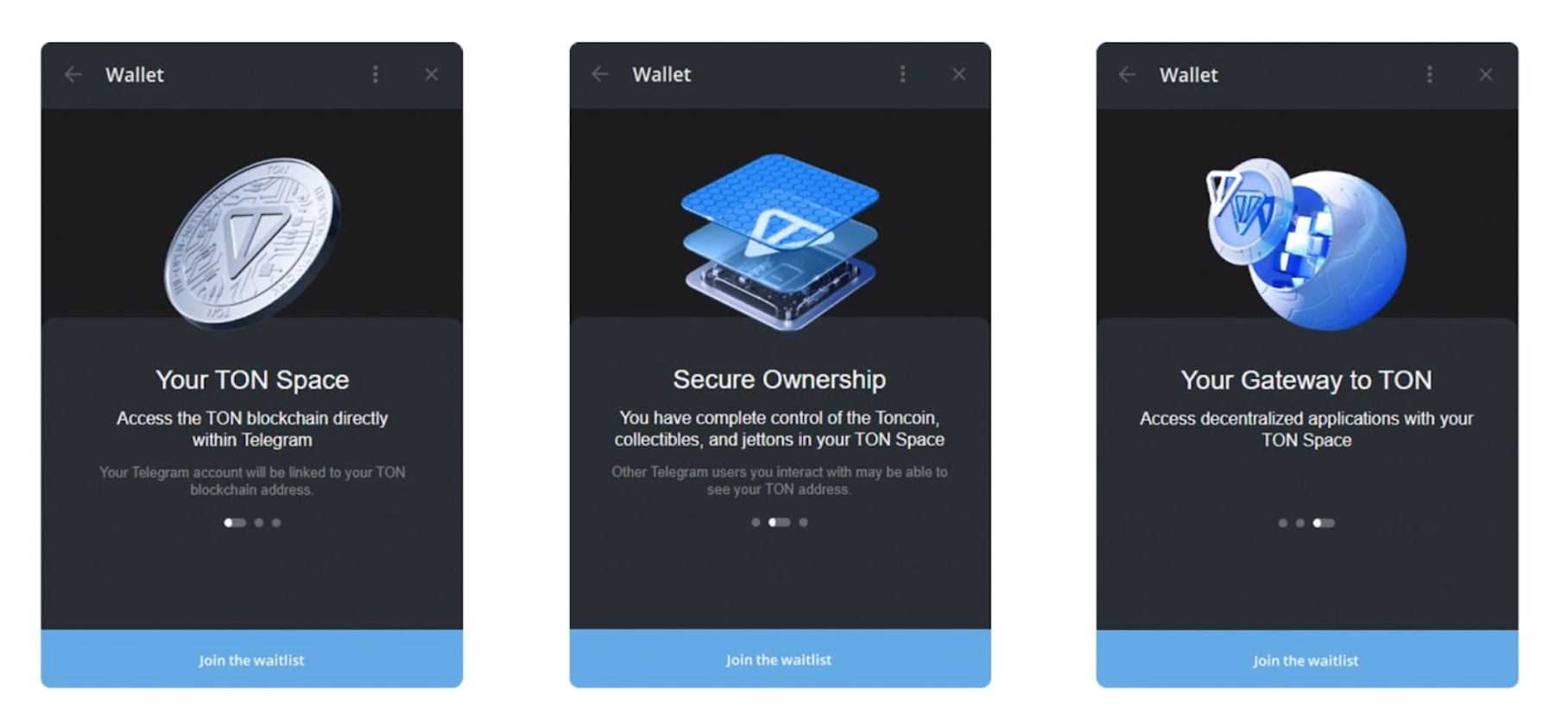 Recent developments by the @Wallet team such as the introduction of Wallet Pay, which simplifies crypto payments, underline its commitment to attracting more users to the world of crypto via Telegram.
💌 By the way, follow us on Telegram!

Also read:
How to create a Toncoin wallet